With a fondness for watching portrayals of people making assess of themselves via the drink, Drunken Otaku seeks to share the love and make you laugh. This column will lift its editorial glass to the great drunkards of anime, manga, and video games via short, trading card-like profiles; recall inspiring moments involving characters who over-imbibe; and unlike the rest of the very polished reviews here on Ani-Gamers, offer (hopefully funny) sloppy, drunken, stream of conscious reactions to whatever's in the DVD player, on the computer screen, under a reading lamp, or controlled by hands which have obviously confused a controller for a glass.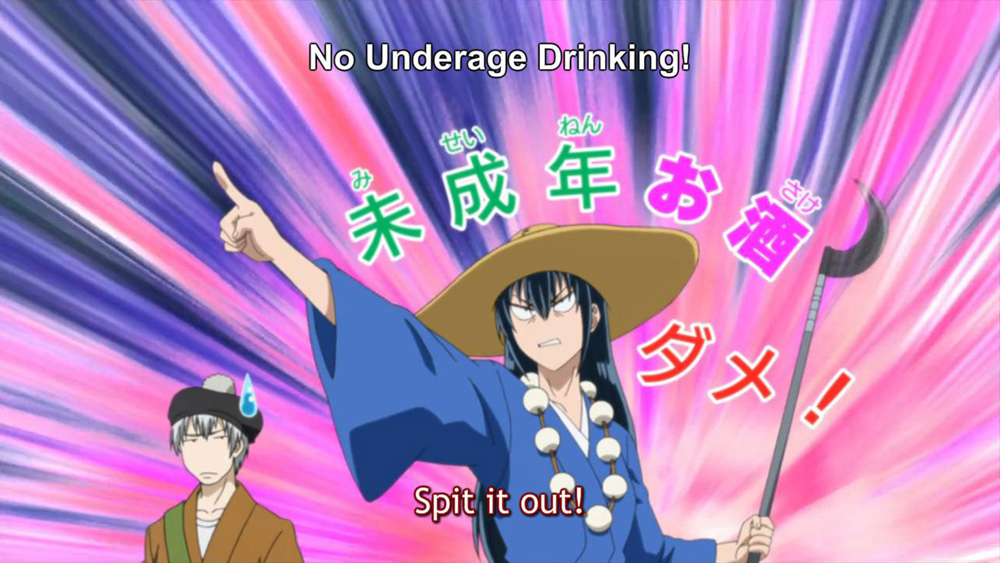 While killing brain cells through drink can be fun, Drunken Otaku does not condone the imbibing of alcoholic beverages in excess (or in any other capacity) unless you are of proper age. Even if you are of proper age, consider yourself warned that drinking in excess can lead to serious injury and health problems as well as unhealthy habits. That said, reading anecdotes and accounts, supplemented by pictures and video, of fictional characters putting themselves in harms way or making asses of themselves in general is absolutely harmless and hopefully very entertaining.
Columns
Great Drinker - Yajirou Shimogamo
– 12.05.15
Kamisama Trick (Kamisama Kiss)
– 11.06.15
Heartstrings (Death Parade)
– 10.08.15
A Drunken Dream
– 09.11.15
Talk to the Face (Campione!)
– 08.14.15
Drinkin' Buddies – Tiffany Dawn Soto
– 07.06.15
Great Drinker – Misato Katsuragi
– 06.06.15
Great Drinker - Mudokons
– 05.02.15
Bartender (Anime)
– 04.04.15
A Taste for It (Kaiji)
– 02.06.15
Laughing at Innocents (Mai Mai Miracle)
– 01.04.15
A Consumption More Important than Murder (Speed Grapher)
– 12.05.14
Takumi of Hida (Folktales from Japan)
– 11.08.14
Great Drinker - Hakutaku (Hozuki no Reitetsu)
– 10.04.14
Tanto Cuore – Oktoberfest
– 09.05.14
Mi Cervesa es Su Cabeza (Natsuyuki Rendezvous)
– 08.01.14
Drinking is Bravo! (Girls Bravo)
– 07.04.14
The Earth (Mushi-shi Zoku Sho)
– 06.13.14
Pre-Gaming a Wake (Borderlands 2)
– 05.02.14
Homebrood
– 04.04.14
Disappearance Diary
– 03.08.14
Fable III: Heavy is the Hungover Head which Wears the Crown
– 02.08.14
Coffee Samurai - Ultimate Beer Goggles
– 01.03.14
Great Drinker – Holo the Wasted Wolf
– 12.06.13
The Eccentric Family – Mr Frog's Wild Ride
– 11.01.13
Somebody Stole My Drink Ticket - FMA Chibi Wrap Party
– 10.04.13
Muromi-san - Ripped Tide/Sea Sick/Two Mermaids One Coast
– 09.07.13
Gifu Dodo!! – Booze, Biwa, Breasts, and Blood
– 08.02.13
Great Drinker - Witch's Brew, Yuko Ichihara
– 07.06.13
Two Steps Forward, One Step Back - Bioshock
– 06.07.13
Oishinbo - Imbibe with Pride
– 05.10.13
High School of the Dead - In the Time of Love and Zombies
– 04.05.13
Great Drinker - Bartender
– 03.01.13
Great Moment in Drinking – The Tipsy Trifecta
– 02.08.13
Drinkin' Buddies – Ninja Consultants
– 01.08.13
Great Drinker – Margery Daw
– 12.08.12
Great Drinker - Rika Furude?!
– 11.03.12
The Sound of Flutes and Drums!
– 10.06.12
Like Water For Vodka – Mnemosyne
– 09.08.12
A Rocky Start to a Grand Adventure
– 08.03.12
Yukari Tanizaki
– 07.10.12
Panda vs. Whiskey
– 06.01.12
Great Drinker – Conker the Squirrel
– 05.11.12
What It Takes to Be King – Fate/Zero Episode 11
– 04.06.12
Welcome to the Drunken Rant – Welcome to the NHK Episode 9
– 03.05.12
The Drops of God – First Sip
– 01.24.12