<i>You&apos;re Under Arrest!</i> Season 1 (1994)

By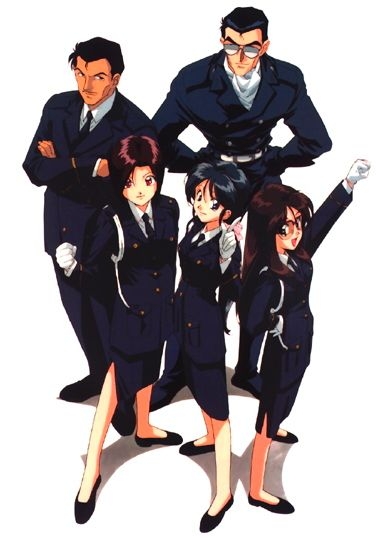 AnimEigo are a curious video label. In their heyday, they were the undisputed kings of popular anime, releasing fan favorites as well as niche titles. That's why their catalog includes mega-blockbusters like Bubblegum Crisis and Urusei Yatsura as well as Dagger of Kamui and Maddox 01. Today, they've pretty much given up on anime with their failed release of Yawara: A Fashionable Judo Girl (which I was looking forward to), and now release Hello Kitty along with tons of '60s- and '70s-era samurai films (hey, you've gotta make that paper somehow, right?). But in their prime they released two titles adapted from the works of Kōsuke Fujishima: Ah! My Goddess (AMG) and You're Under Arrest (YUA). AMG is a massive title in and of itself, but today we're going to talk about YUA, specifically AnimEigo's entries in the franchise.
The series follows the (mis)adventures of Sergeants Miyuki Kobayakawa and Natsumi Tsujimoto who work at the traffic division of the district police station in (fictional) Bokuto, (real) Sumida Ward in Tokyo. Natsumi has just transferred to the station, and after a series of initial mishaps she and Miyuki become partners and fast friends. Add to this the somewhat stoic station Chief (whose real name spells out the Japanese word for chief), grizzled detective Tokuno, ace motorcycle cop Ken Nakajima, worrywart and station snoop Yoriko, mysterious girl Aoi Futaba, crazy traffic violators, newly acquired family members, nutty bombers and costumed, mustachioed superheroes and this is a fluffy show where not a lot actually happens. I think the appeal of the series comes from the fact that in real life, the traffic division of a modern metropolitan police department would never be this exciting. Miyuki is a no-frills straight-lace officer (though she can bend the rules on occasion) who has Natsumi, with her gung-ho attitude, superhuman strength and unlimited appetite, as her foil. They really do complement each other well. But these girls are still crazy as anything, I suppose. If it's not Miyuki hitting the nitro boost on her heavily modified Honda Today then it's Natsumi sticking her feet out of the car to act as an artificial brake. I'm going to talk in a bit about other aspects of the series but I have to stress that the core relationship between the girls defines the series in more ways than just their roles as partners. They go through the usual pulls and draws that friends go through and they survive the worst that life throws at them. It's nice to see maturity beneath the fluff.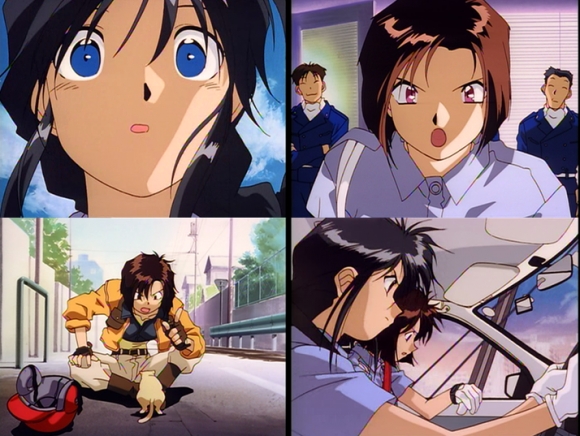 Another interesting thing, for me at least, is to view YUA through the microscope of Japan coming through its economic bubble. The first season came out in 1996-97, the second in 2001 and the latest one was shown in 2007-08, so we see Japan go through prosperity and a waning economy. Bokuto Station isn't real but we see how technology and society change as crime and punishment morph through a decade. For most of Season One's run of 52 episodes, the station mostly deals with speeders and drunken idiots, but occasionally things get sophisticated when a high-speed train chase has Natsumi leaping from one train to another, when Natsumi ends up in Edo-era Japan after getting a bump on the noggin, or when three cops use police-marked cars and motorbikes to injure members of the public while letting Bokuto station take the heat. Tonally speaking, Fujishima's manga is slightly different from Junji Nishimura and Kazuhiro Furuhashi's vision for the anime. The manga has action elements but has more slapstick parts to it. So with this many episodes and only seven volumes of the manga ever written, the show's producers have done an excellent job salvaging a show out of a limited amount of material.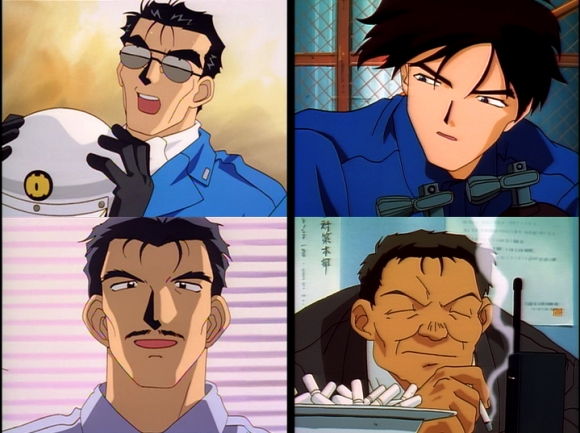 The most interesting aspect of this series is the development of the characters and their relationships. From the outset, it's blatantly obvious that Nakajima, nicknamed the "White Hawk of Bokuto" because of his success chasing down criminals, likes Miyuki, but the big dolt is so boneheaded and Miyuki is so timid that theirs is a slow-burning relationship. However, whenever one is in danger, the other leaps in action to help or avenge them. It's pretty much a done deal, barring something major, that they'll end up together.
Natsumi, on the other hand, has a more straightforward relationship with special lieutenant Shōji Tokairin. Tokairin and Natsumi take forever to get together with him only being introduced in the 34th episode of the season. Theirs is a more organic relationship with their abnormal strength, massive appetites, and tendency to throw themselves into danger. I'm happy to spoil things for you and say that as of the second season, they are still together despite the fact that both of them are constantly being reassigned to different places. They have fun, but they are, just like Nakajima and Miyuki, there for each other.
The third character I mentioned who goes through a change, character-wise, is Aoi. Aoi, who joins the station after the series starts, is anatomically a man but who acts, dresses and feels like a woman. Initially the girls at the station want Aoi to get changed in the men's locker room, something Aoi doesn't want to do, but over time as she reveals more of her personality they happily accept her as one of the girls. Aoi has a question hanging over her as to whether she likes guys or girls and the station engages in gossip as to the answer. But we get a slight answer in one episode where Aoi has to give a reply to an admirer. It's not a conclusive answer but it's interesting that the show's producers run as much with Aoi's backstory as they do.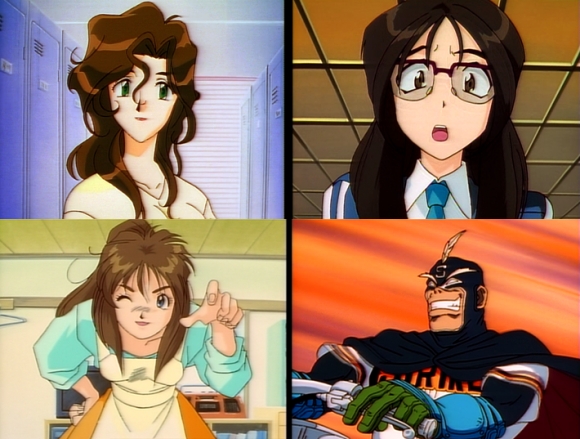 Speaking in animation terms, the first four episodes in the season are actually OVAs so the quality is quite high. Going into the double digits on the episode count, the style and quality do fluctuate somewhat, as if there were another studio handling the animation on some weeks, but it's nothing terribly egregious. One interesting note: the dub for this series is quite good and AnimEigo did an amazing job matching their English VAs to the Japanese cast. I was very impressed.
This is the first title in the Trap Door column that is most assuredly out of print. AnimEigo announced late last year that at the end of January 2012, YUA would go out of print. At the moment, it's relatively easy to buy copies from Amazon, Rightstuf, and AnimEigo themselves but I had difficulty in obtaining a copy of volume 11 even on eBay (I got it in the end). The reason I'm saying this is that You're Under Arrest: Season One is a series worth investigating and possibly saving from the Trap Door. It's fluff, sure, but at least it's competent and a curious window into the culture in Japan in the mid 1990s.
Last thing: I've already selected my next title for the column, but I would like your help selecting the one after that. Is there a title that you think should not escape the trap door and is better left forgotten? Email me at phillipo [AT] anigamers.com or send me a tweet to @eeeperschoice with your suggestions. Only rules are that it can't be too expensive to acquire and it had to be in print and licensed in North America or the UK at some point.
---
Every month in "The Trap Door," Phillip O'Connor tackles one forgotten anime title to find out whether it deserves to be rediscovered by the anime community. Click here to check out previous posts in the column.