<cite> Sword For Truth</cite> (1990)

By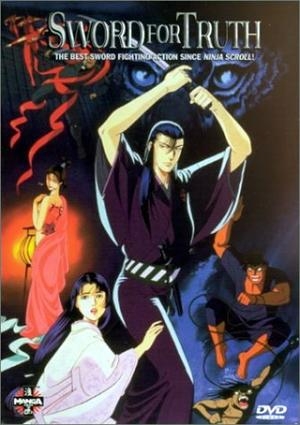 You invest yourself in a lot of media based on what you read or see beforehand. "Oh, this film will be great because my favorite actor is in it." "This game will be amazing because this studio made it." Now, if you've ever liked Johnny Depp, you know Dark Shadows isn't his greatest film. Likewise, you're well aware that 343 Industries is responsible for Halo Wars. So your wishes for a film/book/game/TV show don't amount to a hill of beans in this world. So it is with me and Sword For Truth, a samurai adventure in which nobody acts like a samurai except the ones who end up dead and there really isn't much adventure. I need a drink.
It is the era of the Tokugawa shogunate in Japan. People vie for power and influence amid armies killing each other in the name of their lords. Too bad that, in this world, we're stuck with the crappiest fight for a virgin princess and a sacred sword. I don't know where to begin, so let's just start at the beginning and go from there. Shuranosuke Sakaki is a wandering samurai who kills for money and not much else. Just as a giant white tiger attacks the Nakura clan and their princess comes under separate attack, Sakaki happens to wander by and takes it upon himself to kill the tiger. In the confusion, however, Princess Mayu disappears. So the Nakura clan hires Sakaki to get her back. After having sex with a random stranger who tried to rob him, Sakaki heads off and starts slaughtering the Seki Ninja who took Princess Mayu. Of course, finding her doesn't stop Sakaki. He continues slaughtering Seki Ninja after he gets the princess back. If it sounds like I'm shortening the hell out of the movie, that's because I am.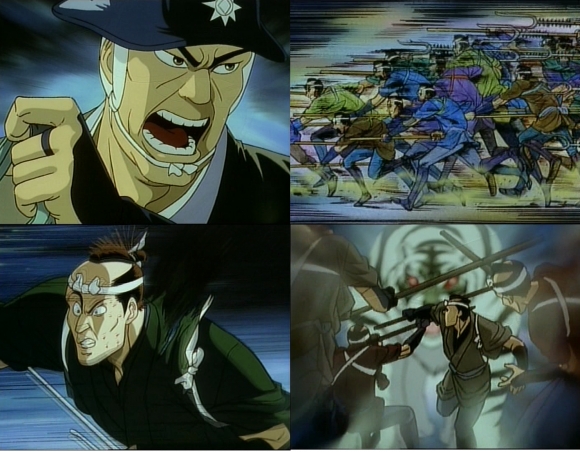 This film is the pits. I thought The Humanoid was bad. I thought Garaga was boring. I slept through Zeorymer. Sword For Truth features action that amounts to five frame panels and speed lines. I am not joking. The animation (and I'm insulting the medium by calling it that) for the Nakura clan charging at their enemies … is the same pan and speed lines. I couldn't believe that someone had OK'd this as proper. It's like they saw Fist of the North Star and said, "Yeah, we can do that, but we'll use samurai!" When characters die, the animation shows them being cut in half … a whole lot. Plus entrails. Got to have entrails. The bloody tiger jumps in size from the length of a pagoda roof to the size of a large tank to normal—all in the same scene. All the character models are wild and varied, but, hey … wait a minute, every ninja and samurai has the same eyes. I'm not kidding you; they just copied and pasted the eyes. The only difference is when they get killed. THEN we see detail. When guns fire at the tiger, it's a still drawing of a gun firing with the SFX of said weapon repeated over and over again. There is no known way for me to adequately prepare you for how crap everything looks. Think of all the amazing, dynamic scenes from Ninja Scroll. Now think of the scenes in Ninja Scroll where people were just walking. That's what Sword looks like. Sakaki goes through his trials at night. (What is with crappy anime and setting it at night!?) This means that while it might sound amazing that he kills people after we get to see him hate-screw the pickpocket (she tries to kill him mid intercourse, but he just loves her up until she cracks), it's the murky, shadowy world of … oh god, I can't keep talking about the animation. I might come back to it. Let's move on.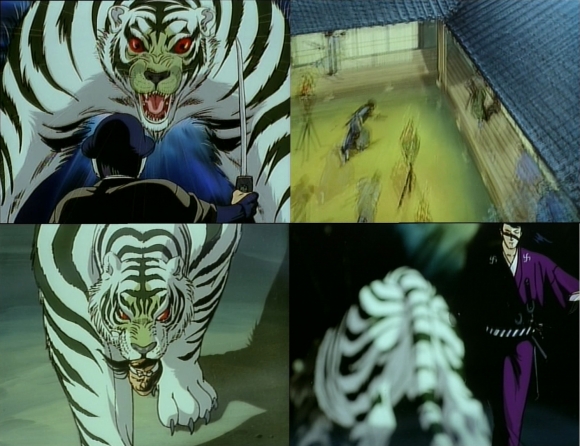 The characters do things that make no sense. After finding out that he is a complete badass-supercop-samurai, the idea that Sakaki would wander into the attack on the Nakura compound by accident is bullshit. Yet every time he's attacked or looks like he'll be attacked, Sakaki's always one step ahead of the game. So why does he take the job to begin with? He seems to know that he'll be killed when he brings the Princess back, so why not let the clan get wiped out? Regarding the Nakura clan's chief retainer who hires Sakaki: if he couldn't kill the tiger that wiped out his clan but Sakaki could, what makes the lieutenant think he'll be able to kill Sakaki upon his return? Ugh. Princess Mayu. Ok, she's an interesting one. With our narrator gravely intoning, we watch as Mayu is pumped with opium and then loved up by a female Seki Ninja. They have sex until her mind breaks. (Really, Japan, you have to stop with this notion.) After this, Mayu agrees to help them get the Ginryu sword that belongs to the Nakura clan. Then, when she is being handed over to Sakaki in exchange for the sword, she doesn't try to betray him at all. So what was the point of the lesbian mind break scene? Oh, I give up. Again, we go back to the chief retainer of the Nakura clan. He wants to protect the princess with his very life, but his retainers keep stopping him. Shame, because if he had thrown his life away, his men would run away and not stayed around to get ordered into battle against a furry killing machine. Okay. Oren, the pickpocket who tries to rob Sakaki and who loses her clothes in the process, is written as a quick bang and then never comes back. Sorry for being crude, but there you are. She tries to kill him because any man who would sleep with her must be cold hearted and therefore must die. What? She isn't seen after this but, wow, what character development. There's also Dogen, leader of the Seki Ninja. He's a big man with a talent for survival who gets stabbed in the neck and a lot of other places. He likes to talk, which isn't really a good trait for a ninja master (but there you go). There's also a government official and a professional assassin disguised as a messenger called Marouji. They engage in playful banter, until the official notices who "Marouji" really is. When they fight, the official is killed. I swear that this exchange is more skilled and even-tempered than any other scene in the film. It also has no bearing at all on the film's "plot." What the hell?!?
The film plays out like a undercooked trial by fire for Sakaki, who fights ninja, trained killers, the Creature From The Black Lagoon (not joking), a dead Seki female ninja, and then the whole of the Nakura clan. He never breaks a sweat, never looks worried, and gives some pithy remarks on the nature of existence and how much of a bastard he is. I knew he would survive the film after seeing him for two seconds. This wasn't an exciting story, this was an excuse to sink someone's tax write-off into an anime project. As I watched it, the other members of my audience stared on in silence. They kept waiting for something to happen other than what they saw and had a permanent scowl on their face. I suspect I might have had one too, but I know I have one on my face right now. Nothing in the plot looked even remotely exciting. I knew the princess would try and fall in love with our amazing swordfighter, the Seki Ninja were going to be mustache twirling monologuers, and Sakaki would eventually just walk off into the distance. I wish I had beaten him to it and run for the hills.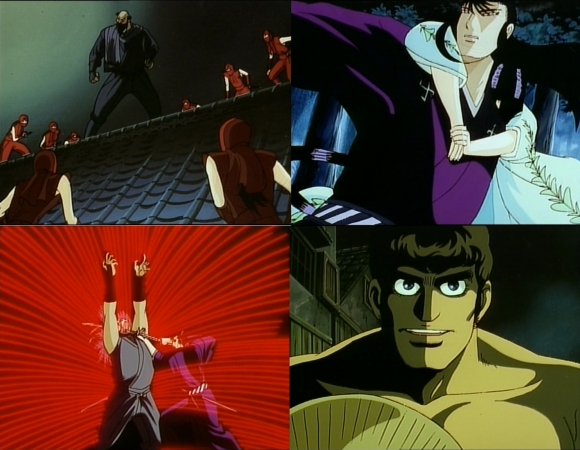 I swear to Jesus and all that's holy, the animation in this defies explanation. Men are shown running somewhere and speed in indicated by a triple dissolve zoom out. Want proof? The second image in the second lot of images in the review is the proof. When people talks, their lips move but nothing else does. Well, maybe an eyebrow. When people get stabbed, blood sprays out in areas that weren't even stabbed at! The blood seems to pass behind Sakaki and in front of him while this goes on. Look above at the third last image for the evidence. The only way this kind of painful animation could be improved is if they turned it into something like Inferno Cop, which, I hasten to add, is a better use of your time. There it's done for laughs. Here in Sword, it's just a joke. People change size all the time except the lead character. So Dogen looks seven feet tall in one shot, and in another, he looks thirteen or fourteen feet tall. Don't get me started again on that human munching moggie. Let's just call it Battle Cat and be done with it.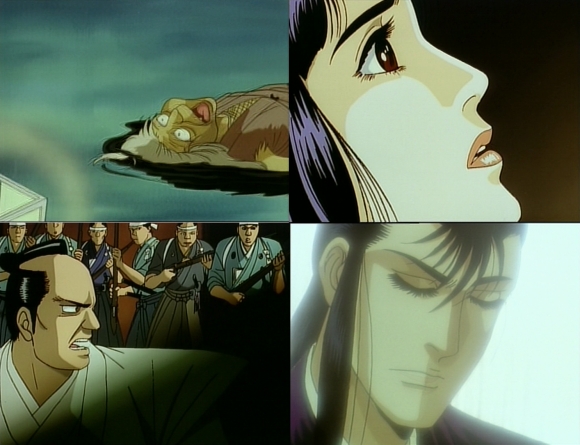 I don't have the Japanese dub on the disc I own, but the English dub is pure pain. Nobody, especially the actress playing Oren, can say Sakaki's name properly. They keep saying Sa-khaki … as in the color. Princess Mayu is called May-Yu instead of Mai-yu or Mi-yu. Every actor sounds … like … they … ARE … reading … their … LINES … like … William … Shat-NER! and nobody tries to sound in the least bit excited. Again, the most stunning moment comes between the official and Marouji as everything slows to a crawl and offers up some amazing dialog … which doesn't even impact the main story. I am informed that this was supposed to be a TV series and that Sword For Truth is the pilot. If that's the case, with all the gore, decapitations, soft core sex and lesbianism, violence, and nudity, I want to see the channel that was going to pick this up. From its terrifying animation techniques to its crappy lines and its pointless ending, Sword For Truth is not getting out of the Trap Door at all and will now be killed with fire. Don't watch this unless you genuinely hate yourself.