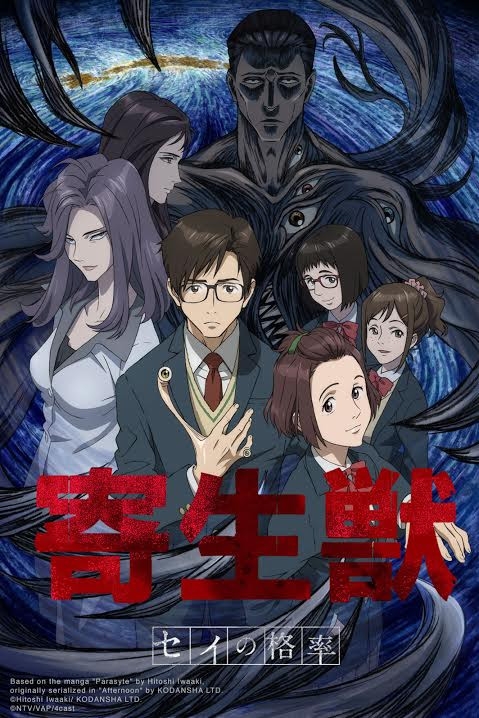 Parasyte revolves around mysterious, well, parasites that fall to Earth one night. As their eggs hatch, the parasites instinctively seek out the nearest compatible bioorganism and take over its brain. Upon successful antibiosis, hosts lose their free will/consciousness. Their flesh sacks, however, gain strength and agility and the ability to morph. The main character, a human named Shinichi, manages to stop his would-be intruder halfway up his right hand. This and similar interruptions to the gestation cycle, which prevent the host's neural network from being hacked, forces the parasites to assimilate whatever body part they entered and live on as part of a symbiotic relationship.
Many will loathe me for making the comparison, much more so for doing so in a favorable light, but Parasyte, much like Alien: Resurrection, contemplates the definition of humanity via attribution. Is what we each consider self our electric thoughts? Is it the blood pump upon which we poetically project our emotional vulnerabilities? Our blood itself? Is it the skin we cannot take off without bleeding and the common shape the bones beneath lend its silhouette? How much of that, exactly, could be cut away or changed while leaving something distinctly and universally identifiable as human? Ironically, Parasyte answers this with a single question posed by a foreign body.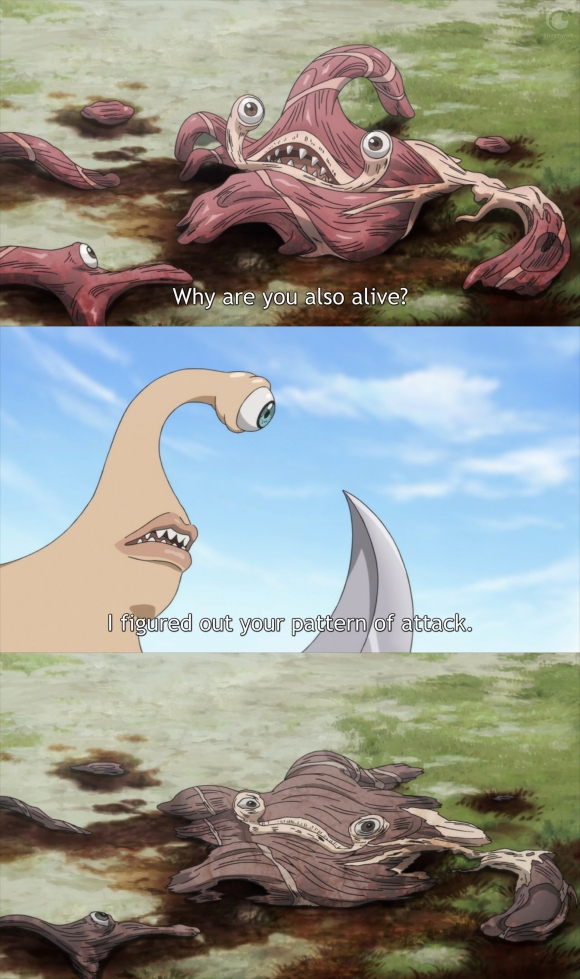 Cut off from its life-sustaining host by a mere symbiote, a fully evolved parasitic amalgam has precious seconds worth of consciousness left. It doesn't shriek in pain. It doesn't curse its killer. It asks one simple question: why.
The nature of the question is largely irrelevant. The organism isn't looking for the meaning of life or trying to ascertain where its consciousness might be headed after the unshakeable blackness takes over. This is about simple cause and effect. Desperate curiosity. With its last bit of bodily sustaining fluids, the organism needs to know. Will the actual answer matter? In the immediate sense: no. What does matter, however, is that some answer is given.
Whether aggressively or passively so, humans are curious and persistent problem solvers by nature. If a question that really matters to its asker is left unanswered, a lack of response is bound to rattle around the brainpan until answered by someone else or some suitable logic is settled upon.
Since the lack of time in this case rules out the possibility of thorough rumination, a decisive answer is needed to prevent regret. With the assailant's simple, factual explanation (abbreviated in the screencap series to the left to avoid spoilers), the inquisitive organism can die at peace with circumstance. Since this being was at least partly human by way of components, its curiosity begs the question of just how much more the parasite might have leached from its host than it intended. At the very least the scene asks us if the need for answers is a fundamental part of being human.
---
Parasyte is currently streaming on Crunchyroll.
---
Snapshots is a monthly column in which one of our writers reflects upon a particular moment from an anime, manga, or video game. New entries are posted on or around the 15th of each month. To read previous entries, click here.