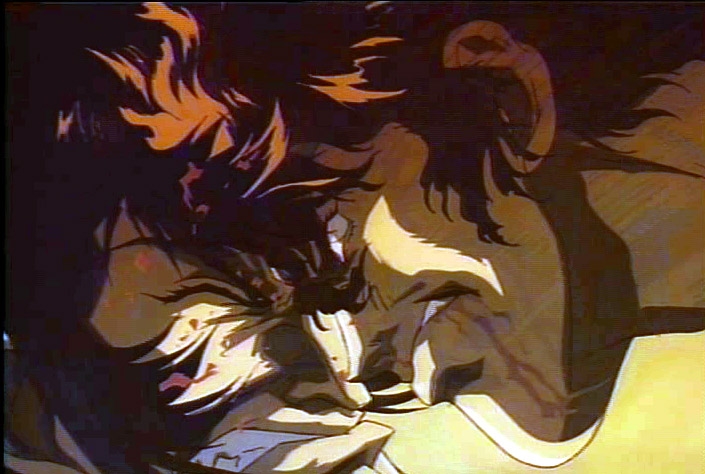 Sometimes, you just want an anime, manga, or game to boil itself down into a single scene and then just run with that. Fortunately, there are such scenes in anime, at least.
It's an age old battle, between good and evil. In this, the penultimate scene in Yoshiaki Kawajiri's ninja masterpiece, Ninja Scroll, Jubei Kibagami has decided to square off against his nemesis, Gemma Himuro. Jubei and Gemma have a shared history filled with betrayal and death. Gemma was the cause of Jubei's clan being wiped out and in turn, Jubei has just destroyed Gemma's plans for conquest and dark glory. Along with way, they each wiped out each other's friends and lovers, plans and hopes. But none of that matters anymore. They only have hate for each other left. The fact that Gemma can regenerate himself doesn't matter to Jubei. The fact that Jubei is the best swordsman doesn't matter to Gemma. The fact that the place where they are fighting will be destroyed in mere minutes is immaterial to them. All that matters is settling this.
There's only one thing left to say:
"I SWEAR, IF YOU COME BACK TO LIFE AGAIN, THAT I'LL KILL YOU AGAIN, NO MATTER HOW MANY TIMES IT TAKES!! AAAAAAAH!"
---
Snapshots is a monthly column in which one of our writers reflects upon a particular moment from an anime, manga, or video game. New entries are posted on or around the 15th of each month. To read previous entries, click here.