A Portrait of the Girl with the Sanpaku Eyes

By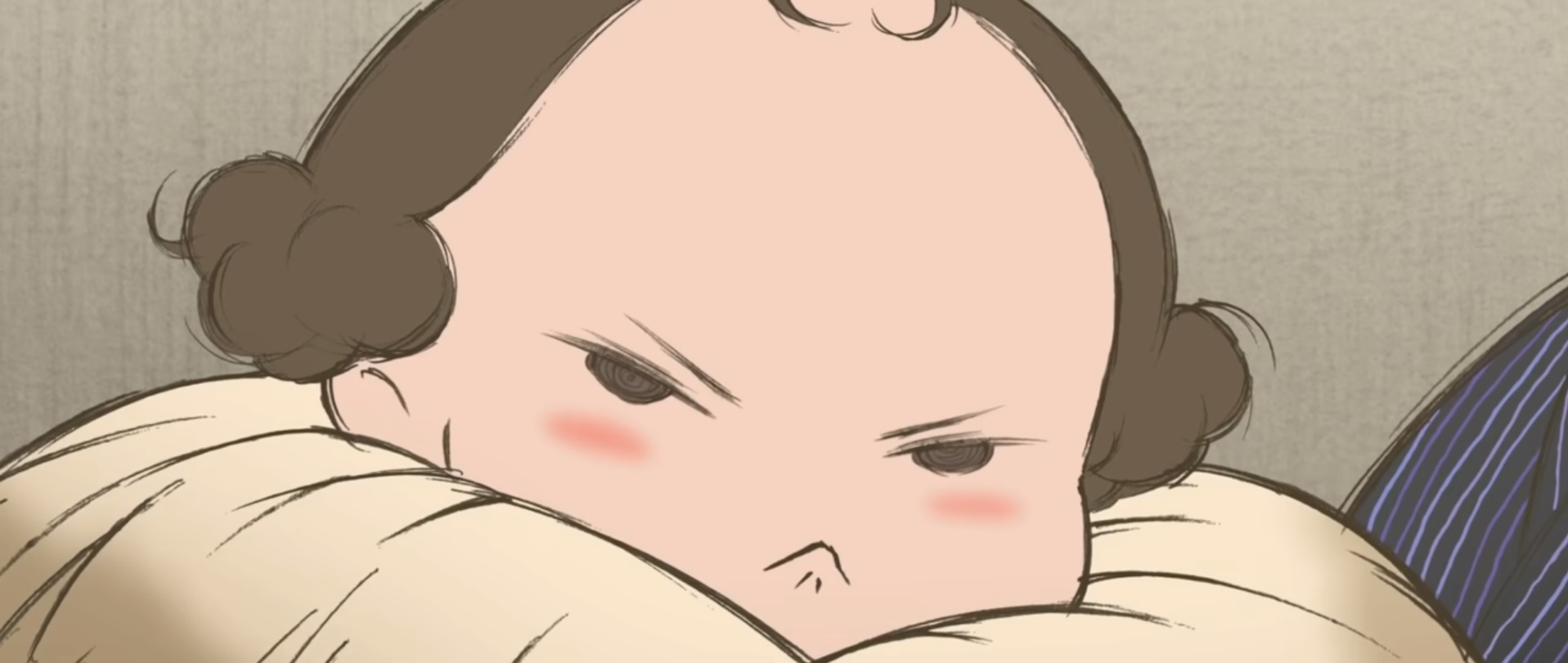 Welcome to Anime Secret Santa, a gift exchange — founded by our friends at Reverse Thieves and currently run by the AGC Podcast — where the gifts are anime review recommendations. We'll be publishing our reviews during the days leading up to Christmas.
---
Whoever they are, I'm sure my Secret Santa is someone I've recommended Koji Yamamura's Franz Kafka's A Country Doctor to or someone who's seen me relentlessly tweet about the same. And even if they aren't either one of those, bless them for recommending the 17-minute-long Shashinkan (The Portrait Studio). Similar to the aforementioned adaptation, Shashinkan is a short that owes its existence, in large part, to one person (different people though). Written and directed by Takashi Nakamura (A Tree of Palme), the short follows three generations from one family as its members get their photographs taken at various stages of their lives at the same titular portrait studio. The "plot" is more a question: will the woman seemingly tattooed with resting bitch face since birth ever smile for a portrait?
The runtime spans the Meiji (1868-1912), Taisho (1912-1926), and Showa (1926-1989) eras, with time's advance evidenced by attire, architecture, season, and catastrophes (both natural and man-made) as well as the visages and movements of the main characters. It's the latter that really shines here. The short was drawn directly using lines from Nakamura's keyframes, in-betweens, and background art. This process, which sounds akin to the straight-from-storyboards process Isao Takahata used in The Tale of Princess Kaguya, comes across much less frantically "scratchy" than the animated folktale but is no less adept for its cleaner, more solid appearance at conveying every single emotion in the mix behind every frame.
As with any great live-action performance, it's the more subtle movements and gestures of everyday humanity that speak the loudest. And since this is a dialog-free short, the detailed depiction of every telling motion and stillness holds the key to all the drama. This is a very simple story drawn with a lot of love and gentle humanity (as well as a lot of humor), and it's laudable that, since the focus of this short is on aging and growth, that the aspects of speed, vitality, patience, poise, and unrest are present in all characters to varying degrees as both foil and mirror. It is also worth noting that the efficacy with which the animation and body language convey even concealed emotions makes one swear they're reading minds instead of picking up on intentionally planned non-verbal communication. Even though the runtime is very short for a multi-era piece, it really feels as though you age right along side the characters, and that's a huge feat.
The ending is great in that the choice of direction and what it means is very debatable. And no, I'm not going to spoil such a simple thing. (I was already tearing up quite easily towards the end, and I want you to as well.) But while I will say this is perfect, I will also say this did not have my perfect ending. I think it's perfectly suitable; the main character may have found herself, and that's what comes through in the final photo, but I'd rather the main character find herself and for that to come through in the final photograph. One thing not up for debate: the piano score by Jun Ichikawa, which sways between playful and solemn with deceitful ease, does a wonderful job in bridging time and events with conflicting emotional weight to play a huge part, if only in the subconscious, in helping defining tone and character throughout the short.
Thank you, Santa! Know that your suggestion led me, within minutes of finishing my initial watch, to buy a copy of A Tree of Palme, which I am very much looking forward to.
---