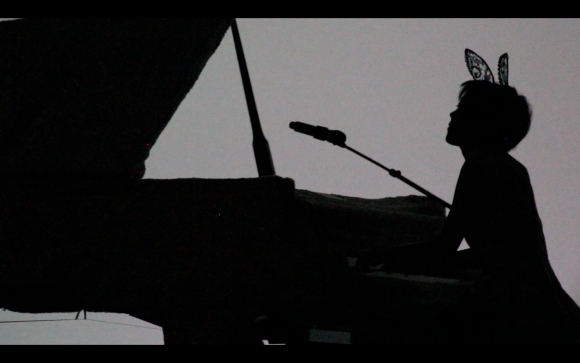 What did the Yoko Kanno concert mean for Otakon 2013 attendees? More than anything, it meant a divide. For most, it meant losing out on the chance to be in the same mid-level venue-size room with Kanno, missing the chance to directly feel the energy emanating not only from her piano and stage presence but from the eagerness and euphoria whipped up amongst those lucky enough to procure the coveted golden tickets (transparent passes). Those who stood in lines to get tickets but ended up falling victim to the cutoff were the poor souls relegated to the simulcast room. And although I cannot speak to the actual atmosphere therein, I'd imagine it akin to that of a group of friends sitting around watching a DVD of a concert — the content feeling removed and impersonal but inspiring, all the same, a sense of camaraderie between attendees.
Graciously, luckily, the editor-in-chief of Ani-Gamers forfeited the pass our organization won as part of the press so that I could attend since I have a snazzier camera and an admittedly larger obsession over the featured performer. As a regular concert goer, I can tell you three things: the opening act is responsible for motivating the crowd, getting them in the mood for live music so they are receptive to the featured performer; the featured performer is responsible for maintaining that energy with a captivating set; and the crowd must know how to be a crowd — cheering, applauding, hooting and hollering when appropriate. As you may have read elsewhere by now on myriad blogs, Otakon 2013's Sunday concert, with opener Chiaki Ishikawa and feature Yoko Kanno, was nothing less than an absolute success.
It's hard to be the opening act. Sure, some of your friends might be in the audience, but most likely 99% of the crowd is there to see and hear the main act. This was obviously not the case given the reception for Ishikawa by the packed room. Woots and roaring applause welcomed the former SeeSaw singer, who was performing solo vocal work with the aid of a sole keyboard player. Ishikawa stood on stage in steampunk-ish Victorian dress complete with goggle-adorned top hat moving rather coyly. As she swayed ever so slightly, Ishikawa extended, with graceful motions, her arms to the sky and often out to the audience as if pleading with them, beckoning to them. After warming up, Ishikawa ventured forth into bolder movements, often looking like she was leaning forward in rage or urgency. These were but parlor tricks, however. She was there to wow the audience with her vocal stylings after all.
Ishikawa's voice is quite lovely, and the emotional and vocal range she brought out in a four-song set (heck sometimes in a single song) was impressive. I am unfamiliar with her work (solo or with SeeSaw), and unfortunately the memories of melodies have faded since some time has passed since the show. At the time, her performance struck me as rather hypnotic. Her first three songs, "TW," "Uninstall," and "Gyakko," sounded like they belonged as a single track, while the last, "Fukanzen Nenshow," integrated lyrics employing a lot of staccato with music that seemed infused with an almost Latin American vibe. Perhaps I was too entranced for my own good. Perhaps I shoulda shelled out for the CD during the break between performers. Because just like that (imagine a finger snap), Ishikawa's portion of the show ended (see my pictures of it here) and the crowd's anticipation for Yoko Kanno could not be quelled.
As soon as Kanno was revealed by the flip of a sheet, the room was charged with energy and applause. It's not every day you see a standing ovation before the artist so much as plays or sings a note! It was at this point that I feared the hype machine would topple the humble offerings that a pedestaled solo piano player could possibly offer a swooning hoard of googly eyed otaku. Oh, man, was I pleasantly wrong.
Kanno started playing something frenzied — jazz fingers tickled ivories to instantly grab the room's attention. Within a few bars, "Tank!" was recognized and welcomed with raucous applause and cheering. The solo arrangement itself was 85% madness, 10% studio, and numerous other indistinguishable percentages: possible placation, improvisation, and just plain awesome. By contrast, the next few songs were slower and more emotionally arresting. One song in particular, Monochrome from the Ghost in the Shell: Stand Alone Complex OST (thanks Alain!), was heart wrenching on two levels and something only possible with the stage setup involved here.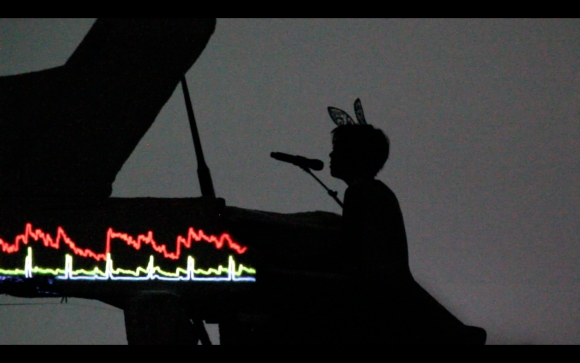 The visual presentation for this piece involved a scrolling biorhythm/EKG waveform projected along the entirety of the cotton-swathed piano's length. The steady pings of the piano were timed to heartbeats while the solemn melody seemed to reflect on a life and death struggle made all the more empathetic by the backing children's choral work. That this kind of music, backed solely by a basic yet inventively implemented display, could hold the all of the audience's lungs hostage and invoke tears as if the room were an open stadium during a drizzle was nothing short of amazing. This was not sadness, this was catharsis. This was a meeting of souls, an energy, a legitimate connection.
The blend of audio and visuals set the perfect stage for an absolutely mesmerizing sensory experience all around. From Kanno's bunny ears and ruffled train to the textured piano upon which danced the intricately superimposed lightshow, everything was complimentary and enthralling. Only rowdy crowd favorites, such as The Real Folk Blues, broke the air of quiet respect while the pianist worked her magic. Yoko Kanno, according to Evan Minto (I could not see her do so from my vantage), repeatedly leaned off the piano to motion to the audience to sing along. And oh boy did they. The crowd intoxicated by the moment, reveled in their chance to show their gratitude for Yoko's presence mid-song by releasing their pent-up, tone deaf screaming over the ears of everyone between them and the stage. Hey, love doesn't have to be in tune, right?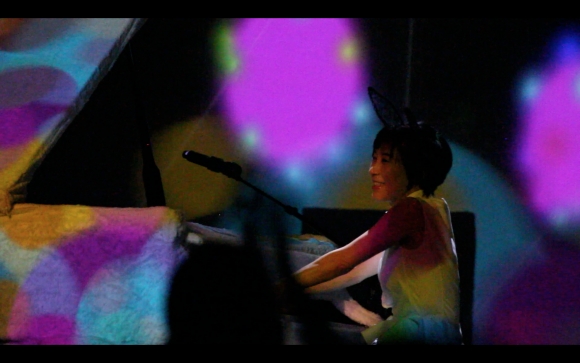 My favorite part of this concert came about not because of what Kanno played but because of the audience's non-reaction to it. For her second encore, Kanno played The Star Spangled Banner. She played it very straight, with little improvisation ... very recognizable. So stunned they were by the songs and performance up through that point, the entire audience sat slack-jawed as our own national anthem was being played during a convention celebrating Japanese (or pan-Asian, I guess) culture. Not one person in the audience sung along or rose from their chair until after the first verse. If saying that Kanno's playing brought us somewhere beyond borders is an overstatement, I'll use that instance to prove any accuser wrong.
The more memorable visuals included the hatching and bumbling about of a geometrically composed chick, a withering horse/dog, dancing abstract atoms, a flight through space, and white and colored balls and hearts tumbling about the form of the piano. Memorable moments included the crowd standing up on their chairs to give an even higher standing ovation than the five or so that preceded it, and the instance where, after the final encore, one particular audience member rode the wave of joy all the way to the stage to high-five Yoko! The takeaway? I love Yoko Kanno more than ever. Evan, I'm sorry I took your spot (even though it had a lousy view of the stage and I was watching the monitor a lot of the time) by being press, but I hope this post makes it up to you in that it convinces many more people to try harder for tickets next time. Oh God, please let there be a next time!
Full setlist after the final pic: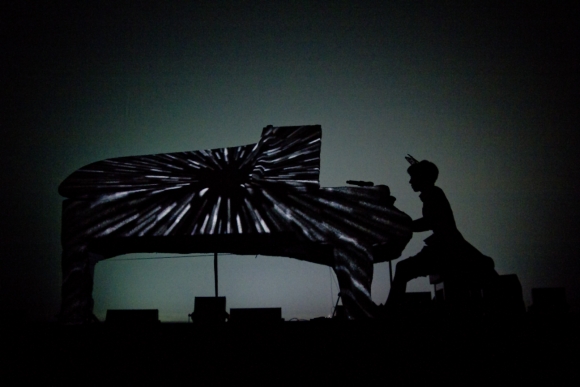 Set List:
Tank!
Nomad Soul
Katarina
Innocent Green
Resonance of the earth
GravityBaltimore special medley
Fanelia
Monochrome
Apollon Blue
Rakuen
Power of the Light
-encore1-
Someday My Prince Will Come
The Real Folk Blues
Wo Qui Non Coin

- encore2-
Star Spangled Banner

- encore3-
Tank! (reprise)
Ishikawa and fan photos taken by me, all Kanno photos provided by Otakon press department.
---
Click here for more coverage of Otakon 2013.