Vertical, Vampires, and Venting

By
Our con report was a couple weeks ago, but since then we've been cooking up some reactions to the panels and events at Genericon XXVII (a.k.a. Genericon 2014). Enjoy, and see you at next year's Genericon!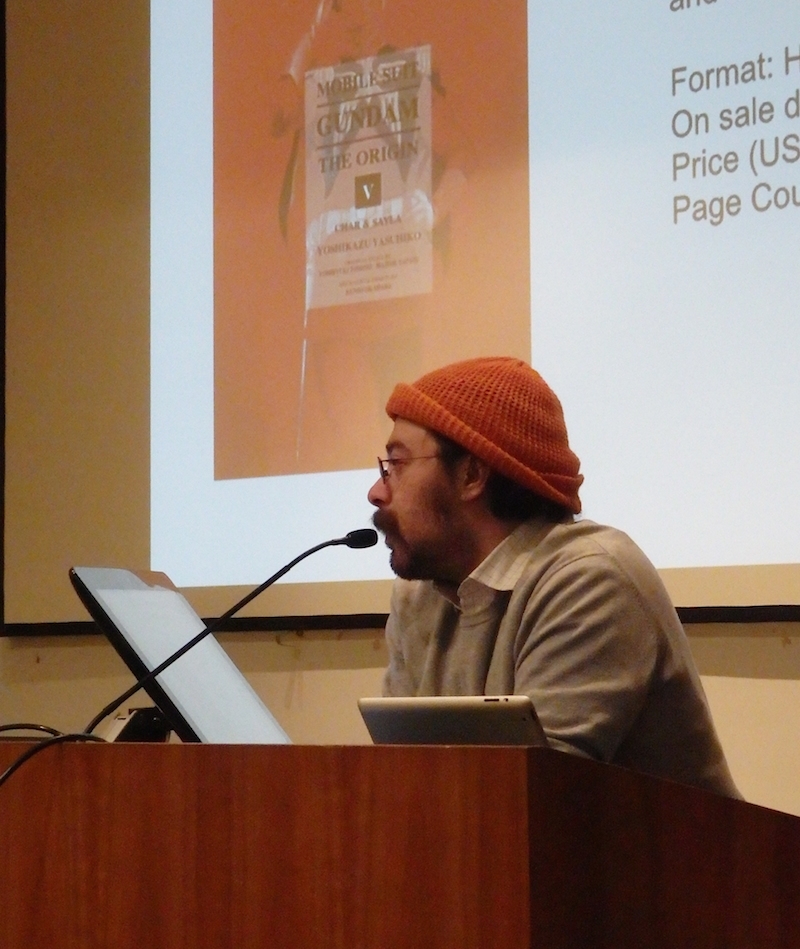 Vertical, Inc. Industry Panel
Vertical's industry panels always maintain a fun, low-key atmosphere where fans get to basically just hang out with Marketing Director Ed Chavez, but recently Ed has started adding even cooler stuff to the panel. Namely, after running through a bunch of announcements and upcoming Vertical titles (this time he announced novels rather than manga), he sometimes launches into an explanation of the manga licensing process. Since this year's Genericon crowd was so small, Ed invited everybody up to the front of the room for an intimate discussion of the production process, complete with the audience hypothetically pitching titles for Ed to analyze. It was a fantastic glimpse into the manga licensing process, with Ed laying out the case for each title in terms of production costs, marketing budget, and projected sales. If you have any interest in the inner workings of the anime and manga industries, this is a great way to get your questions answered. –Evan
Sailor Moon: The Panel!
There's a new Sailor Moon coming out, so this was a perfect time for a refresher course. Luckily, that's exactly what this panel turned out to be. Panelists Krys, Victoria, and Courtney Jordan, respectively cosplaying Sailor Neptune, Princess Cosmos, and Chibiusa, started off with a little bit of history behind the manga. This included what distinguished Sailor Moon on a conceptual level from past mahou shoujo— its blending in of super sentai and a focus on darker, more mature subject matter—as well as publication details. Past that, seasons were broken down by characters; their traits, relationships, and M.O.s (where applicable); and basic plot descriptions. In-between seasons came trivia, which kept the audience involved, but it was not needed as Krys maintained a tone of good humor and kept a pretty good demand of attention via a smooth and animated delivery of a topic over which she obviously had a thorough command. Victoria took over for Season 3, and Courtney seemed to be relegated to operating the slide show, but that might have changed. I had to run (due to overlapping panels/events) to the Historical Dance Demo. –Ink
Historical Dance Demo
Well, I certainly wasn't expecting medieval dance and dress, but that's not necessarily a bad thing. Led by Carol March and Amanda Petritsch, members of the Society for Creative Anachronisms, volunteers first took instructions on and practiced the moves of a simple country dance, which they then performed in full to appropriate music. All the participants seemed to be having a blast being awkward and laughing at their own missteps. All-in-all, however, and after only a couple of attempts, the dances flowed fairly smoothly—a testament to quick learners. Unfortunately, I did not get to see dances from other continents/ages (as promised by the guidebook description) due to overlapping panels/events. –Ink
Anime Amazons
Presenters Kristina Korpus, Zoe Epstein, and Carly Smith began by an appropriate and oft-neglected disclaimer that their insight relates to how characters are viewed in American or English culture rather than how they're seen from a Japanese perspective. They also defined "amazon" as they were going to be applying it, characters that are not thought of as the typical strong type, and proceeded to give several examples from several anime. The majority of examples brought up were supported with hard facts from the series, but the presenters would also occasionally slip into saying the character was "a strong female character" (a fallback phrase which was repeated a little too often) because of the defining terms listed in the beginning rather than backing evidence from their respective series. Another slight irk was that the presenters lingered a little too long on Kill La Kill analysis (objectification vs. empowerment). There were wonderful points made, but these were for another panel. Despite these things, however, the panel went smoothly, and the presenters brought up some wonderful and subtle ways in which anime has strengthen female characters: swapping of the sex typical in shonen roles, the turning of a usually limiting role (motherhood) into agency, and much more. –Ink
'Trigger' Warning: Birth of an Anime Studio
If you're a reader of this blog, then you probably know by now of the editor-in-chief's obsession with the upstart anime production company Trigger (Kill la Kill, Little Witch Academia). Bringing his love (and research) off the screen and into a college lecture hall, Evan Minto relayed the company's history and main players, including the "ridiculously multitalented" Yoh Yoshinari, Sushio and his frenetic style, and Akira Amemiya. Each member of Trigger received individual introductions complete with job title explanations and defining works as well as example clips/stills thereof. A brief stint during a clip where there was no audio did not pose the slightest hindrance, as Minto knew more than enough to narrate the clip by pointing out examples of directorial and artistic influence…and that was entertaining in and of itself. When several talented people who have, as noted by Minto, previously worked together on separate projects join forces to make a company with the intent of making more of what they're good at, it's something of which to take notice. Evan did a thorough job of explaining where these creative talents came from, pointing out their fingerprints amongst the studio's various projects, and explaining the blueprints for his favorite animation studio. –Ink
Anime Name-That-Image
Despite staffing Genericon for four years, this was the first year I got to stick around for more than 30 seconds of Anime Name-That-Image, a game show-style panel run by perennial Genericon favorites (and staff alumni) The Con Artists: Su, Scott, Brendan, and Dan. The structure was simple — an image appeared on screen, and attendees had to raise their hands to answer what anime the image was from — but what made it so much more was the excellent image selection. Choices ranged from the hilariously obvious (a full body shot of Eva Unit 02) to the bizarre and obscure (my favorite, Sword for Truth, made an appearance). The most brilliant choices were the trick shots, where familiar aspects were hidden or distorted to slow down and confuse recognition. Ink, Ed Chavez, and I sat next to each other for this panel, and we had a blast taking guesses amongst ourselves and trying our luck against the crowd. I didn't get a chance to see any of The Con Artists' other competitive events (Anime Name-That-Tune, Video Game Name-That-Image, etc.), but if they're anything like this one, I suggest you carve out some time for them at future Genericons. –Evan
Josei Manga
Prefacing his presentation with where his observations and research had led him, that English-speaking markets are apathetic towards women's comics in general (let alone their Japanese counterparts), Chavez warned the lack of exposure is due to no-one writing about it or criticizing it. In short, no-one's getting the word out about one of the largest segments of manga in publication in Japan. The panel began with a bit of josei's history—how it came about via established artists breaking out of writing stories for kids in favor of stories focusing on more sophisticated narratives —and covered the various waves of josei publication, dominant topics in the publications themselves, as well as analyses of both the distinctive art style as well as storytelling evolution. Urging people to purchase the material and approach publishers about publishing more of it, Chavez rattled off some josei manga available in English (available from Vertical Inc. and other reputable sources) as well as the various artists responsible for titles currently being published. If you see this panel come around, find a seat; you'll learn yourself something: new titles, new authors/artists, history! My only gripe…not once did he mention Chihayafuru. Tsk tsk tsk. That aside, below is a list of authors and artists as well as a list of non-Chihayafuru josei manga currently in English that you can check out.
Authors/Artists: Ichijo Yukari and Ryoko Yamagichi (only members of the Forty-Niners, or "Show 24 Group," working in josei), Kyoko Okazaki (mother of modern day josei), Moyoco Anno (Insufficient Direction, In Clothes Called Fat), Erica Sakurazawa (Angel, Aromatic Bitters), Ai Yazawa (Paradise Kiss, NANA), Matsuri Akino (Petshop of Horrors), Yayoi Ogawa (Tramps Like Us, Baroque)
Josei in English: Helter Skelter, Midnight Secretary, Happy Marriage, A Bride's Story, Thermae Romae, Wolfsmund, 07-Ghost, Kaoru Mori, Carnival, Saiyuki, Gangster, Bunny Drop, Dawn of the Arcana, Pink, Princess Jellyfish, and many more.
–Ink
Shiki: A Vampire Series with Bite
Alice Theibault, for her first panel ever, decided to introduce and expound upon one of her favorite vampire anime series by sinking her teeth into Shiki. The presentation was well rounded. Theibault began with some background, the origin and influences, and then went into some of the more technical aspects, such as music and art, which help define Shiki's tone and atmosphere. There was a dissection of the aspects of Shiki's vampires and characters as well as how the show uses them to capitalize on fear, but the most interesting points of the presentation were those addressing Shiki's aspects of deconstruction concerning moral ambiguity, Japanese societal values, and women's roles. These were only briefly and lightly touched upon but included nonetheless. Imagined as a fun way to conclude the panel, Theibault put together a "game" which was, in essence, an online survey of which household in Shiki world contestants belonged to given their answers to certain questions. The same questions were asked of every volunteer, making things repetitive, but that didn't stop people from volunteering. –Ink
Alice also quoted Ink's Shiki review in her panel, which gives her extra credit points in our book. –Evan
Don't Be THAT Person
When I was there, I was shaming the presenter for not actually talking about the kind of THAT person I was thinking of. But as I realized I was doing so because she had yet to mention that with which I'm most familiar, I began shaming myself for not accepting a broadened application of the term. In case you don't know, "THAT person" refers to someone disruptive at a con. Ways in which "THAT person" could be disruptive was the focus of this panel, which doubled as verbal warning and venting session. Panelists Krys and Grace Liu promised to be extremely blunt about common sense, and oh boy did that abound. Though when all of two topics are covered for about forty minutes, minutia gets repetitive and sympathy for the victim almost flies out the window. Still, the panel managed to expose a range of arenas in which "THAT person" is present as reigning gladiator over con goers' discontent: hotel shenanigans, cosplay disrespect, camera obnoxiousness, panel interruption, and hygiene disregard (to name a few). Most of these reflected betrayals of con guidelines or general etiquette, but there were disgusting/appalling insights peppered throughout. The panelist maintained a humorous disposition without being mocking or offensive, a line that's all too easy to cross considering the topic and the frustration behind it. –Ink