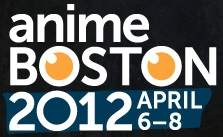 We're heading back to Boston yet again for one of the largest anime conventions in the US, Anime Boston! I'll be there for sure, thanks to another awesome official trip subsidized by my university's anime and sci-fi club, the Rensselaer Science Fiction Association. David Estrella, former New Kid on the Block (Phillip has now ousted him), will be there as well, covering the concert and a number of other events.
We would have loved to cover PAX East as well (it's occurring at the same time in the same city), but the logistics just didn't work out this year. Sorry!
Remember, if you'd like us to report in on any panels or guests, just drop a comment right here and we'll do our best to honor your requests. If you'd like to see the events I'm planning on attending, just head below the break to see my tentative schedule.
Friday
Analyzing Anime 101 (10am, Panel 202)
I am woman! The Evolution of Female Characters in Anime (10am, Panel 208)
The Legend of Zelda or: How I Learned to Tolerate OOT's Fandom (10am, Panel A)
Building Mecha Model Kits: A Total Beginner's Guide (11:45am, Panel 208)
Romance Anime: Affecting the hearts of us all (2pm, Panel 306)
Vertical 2012 (5pm, Panel 202)
The Meiji Era: A Japanese Industrial Revolution (6:45pm, Panel 107)
LGBT Manga and Anime (9pm, Panel 309)
Introduction to Japanese Fairy Tales (9:30pm, Panel 206)
Unusual Manga Genres (18+, 10:30pm, Panel 202)
Totally Subversive Toons (18+, 11:15pm, Panel 208)
Saturday
Anime Happiness (10am, Panel 206)
Sentai Filmworks (2:30pm, Panel A)
FUNimation Industry Panel (4pm, Panel A)
Tokusatsu: Heroes and Monsters of Japanese Television (6pm, Panel A)
Seinen Up: Manly Manga...for Manly Men and the Manga-Reading Women that Love Them (6:45pm, Panel 306)
Anime Hell (9:30pm, Panel 306)
Sunday
Judaism and Anime (10am, Panel 309)
We Con, Therefore We Are: A Critical Look at the Modern Congoer (12:45pm, Panel 206)
Anime Forever! Movie Screening (1:30pm, Panel 302/304)*
* I'd like to point out this event in particular. Stephen is a friend of mine who has been diligently putting together this documentary for years now, and I'm really excited to see it completed. I saw a number of versions of the film as Stephen worked on it, and it's a really honest, heartfelt portrait of the modern American anime fan. If you can get to this event, please do!