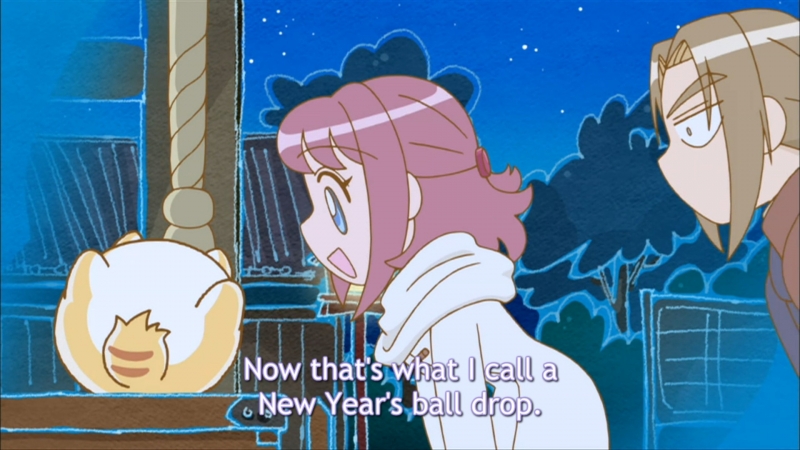 It's been nearly a year since January 8, 2012, when, after an unofficial four-month hiatus, I announced Ani-Gamers' reboot for the new year. In that time, we've done quite a lot, and I just want to take a moment to say how much fun I had this year.
In 2012, we published 26 reviews, starting with my take on Lychee Light Club and finishing up on Ink's Secret Santa Review of Shiki. Speaking of Secret Santa, we got back in the ring for our third year of Anime Secret Santa, presented by our good friends at the Reverse Thieves anime blog, and briefly competed in the massive AniBlog Tourney (congrats to Metanorn for their close win in the final round). Our bloggers appeared on a number of podcasts, from Anime World Order to The Speakeasy to Anime 3000 to The Ninja Consultant Podcast, and we covered five conventions — Genericon, Anime Boston, Zenkaikon, AnimeNEXT, and Otakon. We also started a fruitful partnership with Crunchyroll News, cross-posting their news and our reviews to bring our audiences closer together. Meanwhile, both Ink and I started writing reviews and features for Otaku USA Magazine! Back at home, we started two new columns — Ink's Drunken Otaku and Phillip's The Trap Door — and continued publishing the monthly Snapshots that we started in 2010.
Most recently, we summed up our favorite anime, manga (well, not really, since none made the list), and video game titles of the year in a "Best of 2012" list, which I've taken the liberty of compiling below (in order of publication, not ranking). You should totally check all of these out:
Looking back, I have to say that 2012 was an awesome year for Ani-Gamers. We got off on the right foot with our reboot last January, and we've rocketed forward all year with more and more anime, manga, and video game coverage than ever before. For filling this blog with amazing writing week in and week out, and for inspiring me to not only check out more anime, manga, and games, but also improve my own writing, I want to thank my staff. Ink, your timely edits provided great insight when my posts needed a little tweaking, and your intricate, analytical posts forced me to think about anime, manga, and games in ways I otherwise wouldn't. David, your sharp wit and frank critical perspective made me laugh every time I read one of your posts. Phillip, your detailed look at anime from years past in The Trap Door introduced me to lots of "new old stuff," so I have you to blame for a constantly growing must-watch list! I'd also like to thank Charles Dunbar for his guest review of Shin Megami Tensei: Devil Survivor 2, and remind our readers that we are always open to both new contributors and guest posts.
Of course, not everything went perfectly this year — the podcast has gone out pretty sporadically and we still don't get many comments on our posts — but with luck we'll be able to improve on that stuff for this year. At least on the commenting front … well, let's just say I know you guys are reading the posts (I've got Feedburner and Google Analytics statistics, y'know), and I want to see you talking back in 2013. We really appreciate hearing your opinions on the stuff we talk about here, so drop in and let us know what you think every now and then!
That's it for me. Thank you so much for reading Ani-Gamers! I hope you'll stick around for what's sure to be another great year!