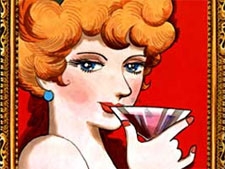 Snapshots is a monthly column in which one of our writers describes a recent moment in anime, manga, games, or another medium that really made an impact on them. To read previous entries, click here.
Osamu Tezuka's contributions to the manga world are innumerable, but I have always been particularly struck by his innovative panel layouts and narrative strategies. Recently, in reading my copy of Swallowing The Earth (reprinted after DMP's wildly successful Kickstarter campaign), one specific chapter served as a sharp reminder of the brilliance of Tezuka's visual storytelling.
In the early chapter "Light Motif," the story turns away from the dangerous seductress Zephyrus and her quest to destroy the world of men, flashing back to the origins of the far-reaching revenge plot. It is 1940, in Locarno, Switzerland, and stock Tezuka villain Acetelyne Lamp is about to steal away his father-in-law's fortune, much to his wife's chagrin. In the midst of a howling storm, she runs away, taking her six daughters with her. We learn that her name is Zephyrus, and thus the Zephyrus that we see in the modern day is a persona taken up by her daughters.
Here Tezuka begins to experiment with full black page backgrounds and a cinematic zoom effect, with each successive panel getting smaller and smaller (or larger and larger) to simulate a film camera. After one such zoom out and another zoom in, we have moved in both time and space to Lyon, France. The year is 1939, and Lamp has sold his father-in-law's scientific research to the Nazis. As if Acetelyne Lamp's typecast villany isn't established enough, Tezuka has now convinced us that he is not a man to be trusted. His wife is heartbroken.
Zoom! Cut! It is now seven years earlier, and Zephyrus is introducing her boyfriend, Lamp, to her father amid a field of flowers. He would like to marry her, and her father happily acquieces. Zoom in on butterflies, cut to two arms in a bedroom, the lights dimmed. They are in Nice, in the winter of the same year. For two pages here Tezuka shows us the intimacy of these two lovers with nothing more than a series of horizontal panels, framing their arms as they talk. Lamp is having financial difficulty and wants to sell Zephyrus's father's research. Her arm shrinks away from his.
More black panels bring us to Lyon in 1940, where Lamp informs his father-in-law that, on the Nazi's orders, he is sending him to work for them. In a page exclusively composed of vertical panels, Lamp moves from the bottom of the panel to the top, and we see him speaking down not only to Zephyrus's handicapped father, but to her as well. He is an ambitious, ruthless man, completely in control of the situation.
Another cacophonous black page takes us from Zephyrus's father's suicide to the birth of a baby to Locarno again, in 1940. Canted shots of trains show Zephyrus's frantic flight.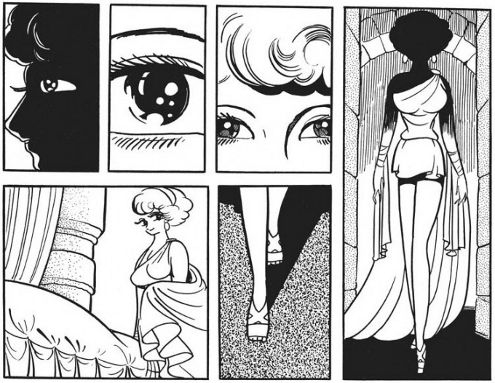 Finally, we come to rest in 1943, on a small island near Guadalcanal. A caretaker rushes back to Zephyrus's bedside, watching as she relays her final words to her daughters. They must destroy money, law, and men in order to get revenge on the father who destroyed their lives. Zephyrus passes, and we zoom away from her crying children and finish the story on one final black panel.
In just 24 pages, we see the beginning, middle, and end of a marriage, with time and space jumbled up in the subjectivity of memory. In the hands of a clumsier manga artist, such temporal and aesthetic changes would surely be confusing, but it is a testament to his genius that Tezuka is able to tie it all up into a fast-paced, digestible, and entertaining package.
---
This post is a part of the Osamu Tezuka Manga Moveable Feast (MMF), a week-long celebration of the manga work of Osamu Tezuka, hosted by The Manga Critic. Check out the extensive archive for this week's MMF at The Manga Critic.