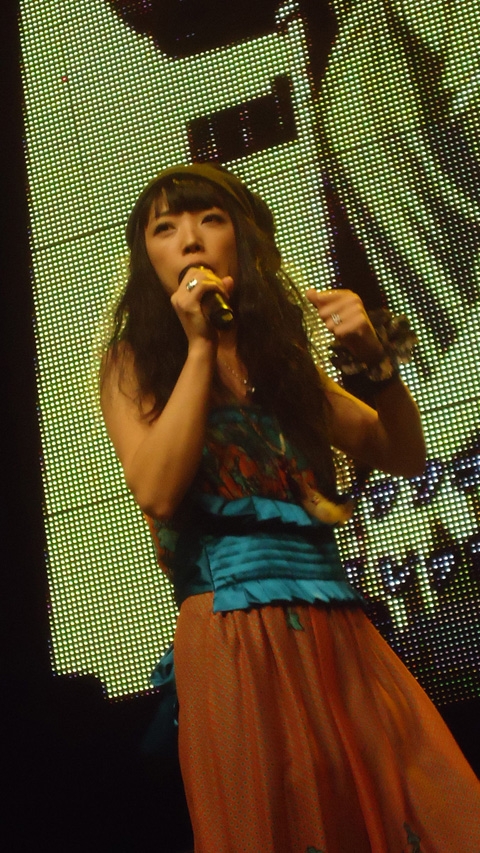 Living on the East Coast, I'm envious of the number of quality guests that arrive exclusively on the West Coast. I've experienced a personal victory this once, thanks to Anime Boston, in seeing Ito Kanako in the United States for the first time.
An artist like Ito Kanako is rare in America. In Japan, she has built a solid career over the last ten years singing themes for Nitro+ visual novels (VNs). As prolific as she is there, the visual novel medium hasn't exactly broken through in the West beyond a small, fanatic niche. Likewise, Nitro+'s games have hardly received any proper publishing here (although JAST USA hopes to change that whenever they feel like releasing Saya no Uta). Honestly, the success of the Steins;Gate anime adaptation has done more for Nitro+'s presence in America than their actual games. Thus, the timing for Ito's appearance couldn't be better. Ito as an artist is reaching out to a distant audience and Nitro+ is seeking to expand their presence in the US.
Concert
Ito's concert was scheduled on Friday just before Haruko Momoi's concert. I was under the impression that Ito would headline, considering the broader appeal of her music, but it's no use questioning the convention's decision now. I placed all of my hopes of being able to attend in my press badge after seeing the city block-length line for the show, and luckily I ended up being led in first to one of the best front row seats in the auditorium. This hour alone was enough reason to make the trip to Boston, and I did not come out disappointed in the slightest. Even without her full backing band, Ito came out and commanded the stage on her own the moment "Hacking to the Gate" dropped. The Steins;Gate anime opening earned her the biggest reaction from the crowd. No one builds a career on the success of a single song, however, so the momentum from this one would have to pull Ito through the rest of her set list. I half-expected her to simply run through all of her S;G songs, but that was actually the only one she sang that night.
Half the concert was a learning experience, since I'm mostly unfamiliar with Nitro+'s collection of untranslated games. The accompanying video on the screen behind her set the tone for each song of the performance and demonstrated the wide selection of Nitro+ games. Ito claimed (in charmingly prepared English) that she sings lots of sad songs, yet the concert was anything but a complete downer. She kept up the pace after her energetic opener with "Kinkakuji" from Axanael. Ito did get around to playing a truly sad song during her acoustic section for "Shoes of Glass" from Saya no Uta, one of the few Nitro+ games with a fan translation available. Saya no Uta was my introduction to both Ito Kanako and Nitro+, so arriving in Boston years later and hearing her solo guitar performance of "Shoes of Glass" was the highlight of the entire con for me.
Ito played a few more songs, including "STILL" from Boys Love visual novel Togainu no Chi, and debuted "Lost Control", the opening song for the upcoming Guilty Crown visual novel. She closed the concert with an acoustic rendition of an original song titled "Niji ga deru made," from her latest album, spark! After sweetly asking the audience if she could play one of her own songs, Ito revealed that she wrote the song for everyone affected by last year's natural disaster in Japan. Despite making her name singing for eroge, Ito has a true passion for music regardless of the source. Admittedly, Ito brightens up a bit more when playing her own music. In fact, she was very excited when I had her sign a copy of spark! during the autograph session the day after the concert. Ito still had a lot of spirit left over at the end of her set, but unfortunately she was only booked for a single, all-too-short hour.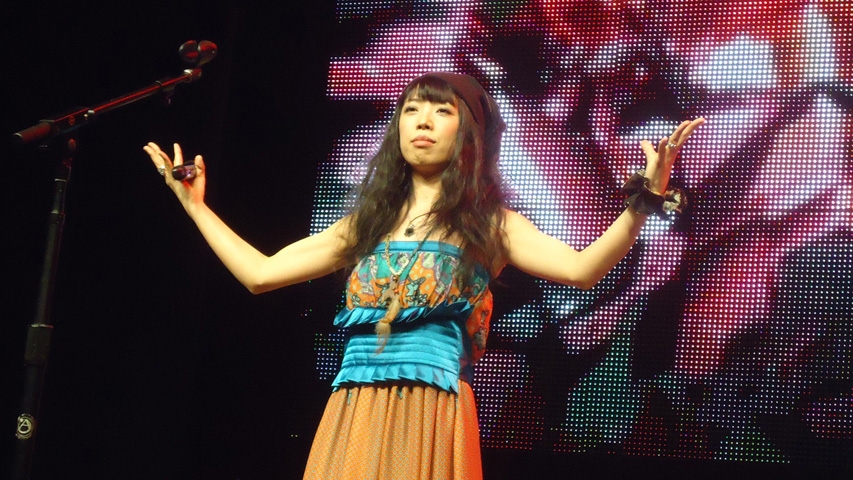 Guest Panel
Ito's Q&A panel the day after the concert was one of the most loosely presented guest panels I've attended. The audience was simply given the microphone from the start. There weren't many of us in the room beyond perhaps 80 Ito fans, so we kept a steady flow of questions coming in. I would argue close to half the questions were worth asking and the rest were either lost in translation or just not all that intelligent. Questions about her feelings on Nitro+'s eroge titles were met with a stiffness that she must have rehearsed over the last decade. It's understandable, since no one should really expect someone as joyful as Ito to play visual novels or watch late-night anime, but it didn't stop people from asking on the off-chance she would reveal a hidden otaku side. To Ito's credit, she tried to give a good answer, though it couldn't carry through her giggles and embarassment about blanking on the catalog of Nitro+ games. A man rushed in with the actual Nitro+ catalog for Ito and her translator. We soon found out that this was the president of Nitro+, Takaki Digitarou Kosaka, which naturally caused a stir among the crowd of Nitro+ fans.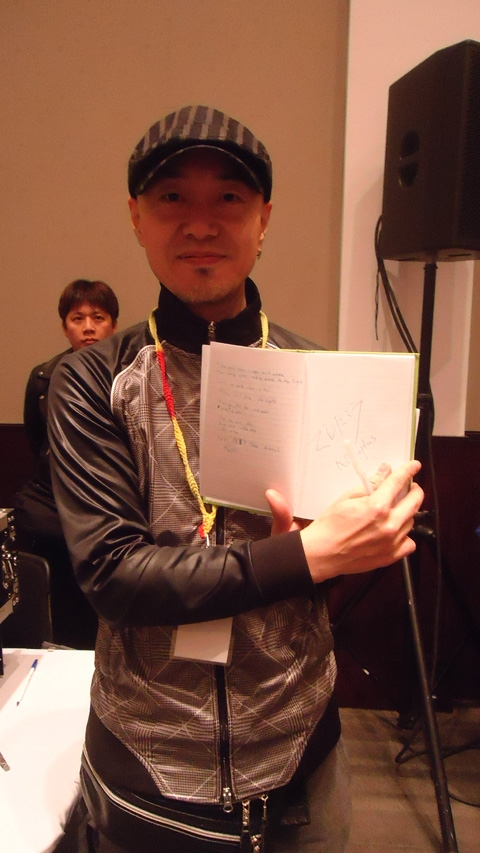 It says a lot about us that we mostly kept our focus on Ito for the rest of the Q&A after receiving that information. Ito's responses lacked the kind of depth to really satiate me, considering the distance we've both travelled to arrive at the convention, but my expectations might be better suited towards a surly animation industry veteran rather than a female vocalist at the height of her career. Ito gave her backstory: how she sang from a young age, playing in a cover band before being introduced to Nitro+ through a musician friend working there. Most if not all of her Nitro+ repertoire is written by someone else during the game's development, which explains why the lyrics are often rife with spoilers.
I didn't know Ito could play the guitar before the concert, so when I asked her about the unique live arrangement of "Shoes of Glass," she explained that some songs are rearranged for her to play alone. When I followed up with a question about about her animated gestures and dancing during her performances, she grew mildly flustered, telling everyone that she doesn't think about anything when she is on stage. Ito thinks she is a "weird person" and hopes to stop moving around so much when she performs. She also recognized the challenge of having most of her material in games unreleased in America, so she was impressed by the reaction from the concert. She has performed before in arena-sized concerts but prefers smaller venues in order to be closer to the fans. Because of her experience with covers of American songs, she developed a clear accent in English, though singing properly in French was purely an excercise in memorization. Ito also commented on how Japanese artists take inspiration mostly from Western music, but she takes inspiration from late '80s Japanese pop band Rebecca, particularly career of the band's early lead singer Nokko.
The most interesting response came from a question about Robotics;Notes, 5pb/Nitro+'s next visual novel. Ito couldn't confirm directly if she would be involved in the music for the game, but her comically mumbled response is as good a confirmation as any. At the end of the panel, Ito slipped out through the side with her entourage waving goodbye while the crowd was distracted with a full preview of the new opening for the S;G Playstation 3 port. The president of Nitro+, who had been sitting at the opposite side of the exit, was not quite as skillful in evading the swarm of fans requesting autographs and photos. He took the attention in stride and didn't seem bothered at the impromptu interaction with fans.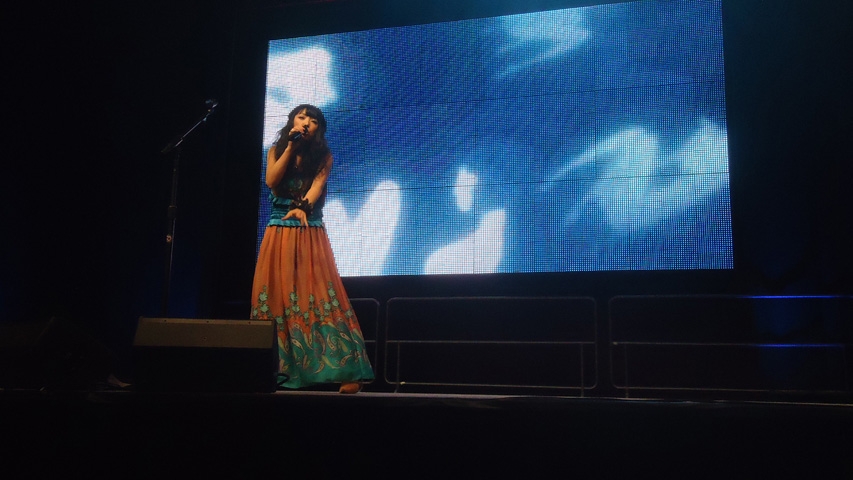 While not as packed with Japanese industry guests as any of the conventions on the West Coast, Anime Boston came through solely with the inclusion of Ito Kanako. Even without that level of name recognition required of many Japanese musical guests to reach these shores, Ito is the most interesting guest I've seen. Now that a VN theme performer has reached top-billing at an American anime convention, it will be very interesting to see Nitro+'s next move in the West. If Anime Boston's next guest can match the bar set by Ito, I will be sure to return next year.
---
Click here for more coverage of Anime Boston 2012.