Hangin' Out Where It All Began

By
Once a year I spend a Sunday in Hoboken, NJ—not (just) for the myriad bars and eateries but for Castle Point Anime Convention (CPAC) at Stevens Institute of Technology. Created and organized by the Stevens Anime Club, CPAC is a good example of a steadily growing college con. It attracted an estimated 3,300+ attendees this year, trumping the previous year's count of 2,660. Although currently limited to a single day due to space restrictions imposed by active classrooms, CPAC keeps talking about expanding, and I for one hope circumstances come together to allow the con to do so.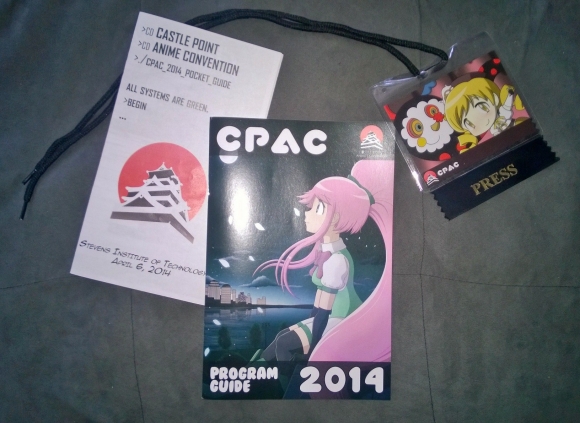 CPAC gained some ground in the past by expanding its list of available facilities to include the larger of the two gyms on campus. This year, both gyms were used by the convention. One gym (Schaefer) was dedicated solely to a sizable Dealers' Room/Artists' Alley combo, which while small in representation offered a decent variety; one table even offered vintage figures (Dirty Pair, Utena, Lupin III). There were myriad craft oddities; my favotites were duck artist Cristina DeCisneros (and her Ducktor Whos) and caged oragami creatures. And then there was the usual spread of prints, manga, DVDs, etc. The other gym, Walker, hosted Cosplay Chess as well as the annual dance. The audience space is somewhat limiting, but the setup—an oddly sloped upper balcony encircling the performance space like a halo—affords a great view and allows for some sublime photo opportunities. I hope more events, such as Cosplay Exhibition and Cosplay Runway, take place in this building for that reason alone. Doing so would also help free up some rooms for more panels.
Panel rooms are decently sized but historically almost never full. This year, thankfully, there seemed to be an increase in panel attendance, and I'm not just talking about people sitting on each other's laps and standing on shoulders to attend Crispin Freeman's panel. Even the first fan panel of the day—"What is Anime," presented by Vinnie Averello—saw a solid roomful of attendees. And while panels are not the essence of this particular con, I like to mention the following every time I talk about CPAC: this is where panelists debut panels seen around other East Coast cons such as animeNEXT. Get your ani-hipster cred by seeing panels no-one has ever seen before! But seriously, the attendance level and chill atmosphere make CPAC the perfect panel test ground. Unfortunately this year left much to be desired for those who, like me, prefer more academic and historical panel content; the majority of panels were dedicated the ask-a-character format. And hey, if the rooms are full, like the one I popped into (Umbrella Corporation Rookie Recruitment: Wolf brigade), which was standing room only, then at least there's an audience for it. But a greater variety would've been greatly appreciated.
As opposed to the four panel rooms (supplemented by Events A, B, and C), there were three video rooms. Two of these rooms, individually dedicated to anime series and movies, featured programming set by Tim Kania. There were some quality choices for both series and movies, which were well-varied in genre if only somewhat limited with regards to relatively recent release dates. The most interesting video room, simply because of its newness, was the Crunchyroll Room.
Crunchyroll (CR) was a CPAC sponsor, and the room in question is as great an idea as it is a simple one: stream shows available on Crunchyroll.com. When the troupe with whom I was traveling first checked said room out, the person running the room asked us if there was anything from CR's catalog that we wanted to see. Seems to be a great way to expose people not only to new anime but to CR in general; sadly, there are evidently many who do not know of the service at all. The only drawback to the CR Room is that an Internet connection is required. If there was a hard line available, connectivity wouldn't have been an issue, but Stevens evidently did not seem to supply the CR room with that. Consequently, the Wi-Fi connection, although secured against use by con attendees, made the streaming quality range from seamless to frustrating to futile (in the span of the short time I was in the room). Still, the room operated throughout the day without much overheard complaining. And on a humorous note, it was rumored that a bunch of fujoshi commandeered the programming to watch Free! You go, girls. If only a bit hindered depending on Wi-Fi availability/strength, this concept of exposing people to content available via LEGAL streaming sites (CR, FUNimation.com, Daisuki, Anime Sols) would make a great supplement to video programming and help raise awareness at more conventions. Heck, with CR's new manga section, how about a dramatic manga read-a-long to supplement the Manga Library? Just a thought.
While the con is relatively small, it does not skimp on event variety. Aside from the aforementioned cosplay happenings, CPAC offers several gaming opportunities (video, board, card) as well as karaoke, a maid café, and a dance. What initially drew me to CPAC was Peelander-Z as the featured concert, but each subsequent year has sadly seen the musical guest(s) downgraded to either 8-bit composers or DJs. NOTE: I say downgraded only because I love the feel, the energy, that comes from a live performance. I'll leave the kids to enjoy dancing to spinning records and mp3 queues. To make staying after the last panel worthwhile, I'd plead for a return to live music. Other attractions included industry guests, anime voice actor veterans Crispin Freeman and Michele Knotz, who were joined on the bill by UProv comedian Ian Rubin and Stevens' own Awkward Zombie webcomic creator Katie Tiedrich.
The biggest attraction of CPAC is, of course, the sense of community. It's a hang-out con, complete with hundreds of people in costumes recognizable from your favorite animated shows and games talking to each other and strangers about the same. The campus is a lovely one for lounging about and gabbing, and the city-street known as Hoboken is directly outside when hunger pangs start nagging. (Although mention must be made of the at-con dumpling station this year…delicious!) CPAC was directly responsible for my involvement in the anime community today, so I'll always come back, and I hope others do as well. Programming could use some higher-profile panelists, and a concert instead of a dance would be most welcome, but all-in-all CPAC is a lovely getaway-for-a-day con perfect for those in the immediate area. Click here for more pictures from CPAC 2014.