The Year Anime Took Back Anime Cons

By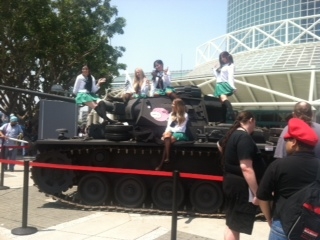 EDITOR'S NOTE: Surprise! Uncle Yo, otaku comedian and one of the earliest writers to contribute reviews to the Ani-Gamers blog, is writing for us again! He's got a bunch of Expo coverage in the pipeline, so we hope you'll check out his new articles. Enjoy!
---
There was an unspoken energy crackling through the crowd at Anime Expo, the nation's largest anime convention, held in downtown Los Angeles. Attendance had increased by Vegeta-meme levels, and a massive tank decorated with girls in short skirts welcomed visitors outside the convention center. For the first time in what felt like many years, people were excited to talk about anime. Not Doctor Who, Homestuck or Ponies, but anime.
Wednesday: I taxied from the airport and stood for two hours to receive my preregistered, four-day pass. The teenagers around me were singing, high-fiving, tapping away on small screens, and patiently shuffling. The massive glass cavern holding our badges was automated with nearly thirty scanners hooked up to printers — which kept the line moving at an unprecedented rate.
Thursday: Anime Expo employed a large team of buses to shuttle fans to and from the surrounding six hotels. To stride into the digital age, they introduced a QR insignia on the convention guidebook that sent one to the Guidebook app, a welcomed shortcut to prevent constant book-flipping. With this app, patrons could create their own custom schedules, give themselves reminders, and even map out a path to their desired panel room. Other additions to the Expo regulations included the mandatory bag checks at every entrance and heightened security. In the five days I attended, this never slowed the entrance to the convention. The convention also promoted cosplay photo shoot meet-ups. Why don't we do this more on the East Coast?
My first attended panel of the weekend set the bar high for industry discussions: "Present and Future of Anime Streaming in North America." The panel was moderated by Chris MacDonald of Anime News Network and lined with industry heads of Lance Haskell of FUNimation, Sam Pinanski of Anime Sols, and Vince Shortino of Crunchyroll. The panelists gave a brief history of legal streaming and its lifelong rivalry with illegal downloading. It was no surprise that this panel had a happier ending than most Pixar movies, considering how prevalent Attack on Titan was at the show. Many promises were made for the future of legal streaming, including Crunchyroll's push to become a merchandising warehouse for official figurines while educating new and young fans on the importance of subscribing to legal sites. The panel declared piracy down by 70% since 2009. It was this passionate and informative discussion that inspired me later attend Anime Sols' panel against Crunchyroll's industry panel.
Next, I was able to sit in on Wolf Children Ame & Yuki, the newest pseudo-supernatural drama from Mamoru Hosoda, creator of The Girl Who Leapt Through Time and Summer Wars. After the crowd got over the initial, heavy handed bestiality in the first ten minutes, they were silent and committed to the patiently paced yet intense study of a pair of siblings raised by their young, widowed mother and the bond of family. It gave a thorough exploration of nature-versus-nurture in the dichotomy of the two siblings, Yuki and Ame, outsiders who struggle to define themselves as humans and wolves. Expect a full review on Ani-Gamers later this summer.
Once I had wiped away my share of Hosoda tears, I tackled the Dark Horse industry panel as they pitched their upcoming titles for the rest of 2013. The publishers responsible for my childhood experiences with mature titles like Akira and Lone Wolf and Cub seem to have more tricks up their sleeves. They announced an exclusive publication of Yoshitaka Amano's first solo written and illustrated novel, Deva Zan. After the panel ended, I had to reluctantly wipe my drool and proceed to the dealer's room.
What to say about a dealer's room larger than most conventions? "Dayum" comes to mind. Despite focusing their publicity entirely on their Japanese guests, Anime Expo placed their biggest distribution companies (Sentai Filmworks, Funimation, etc) at the entrance. Constant crowd games and video game demos were pressed so closely together I felt nostalgic for the New York subway.
Was it right to have their massive Artist Alley toward the back? If anything, they were close to the bathroom and a few food distributors, so bodily functions alone would guarantee traffic toward the plethora of Adventure Time and Attack on Titan fanart.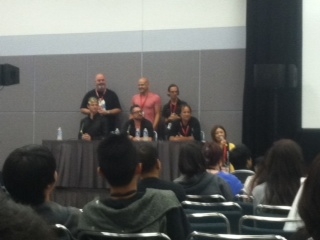 In terms of guests, Expo draws heavily from its local talent, hosting FUNimation top-liners like Kyle Herbert, Vic Mignola, Eric Vale and Chris Patton. During a select screening of the dub of Fate/zero, director Tony Oliver was pleased to pull out surprise guest Crispin Freeman. It was a star-studded screening that featured more talent than the table had chairs. The main screening for the weekend was, of course, the premiere of the Blue Exorcist movie, which approximately half of Los Angeles stood in line to see. I didn't have a prayer of getting in, so I cut my losses and went to the IHOP.
By Saturday, the 75 degrees, clear blue skies, zero humidity, and parking lot full of food trucks was taking its toll: I was actually having a good time. I ran into voice actor and friend to Ani-Gamers, Kyle Herbert, a little before the start of his general panel. The panel rooms they offer at Anime Expo are enormous. While their Live Programming 2 can sport anywhere from four to six-hundred seats, even their smallest lecture rooms can still hold more than two-hundred bodies. Herbert handled his fans with polite professionalism and even accepted a custom PVC sword from an attendee.
Despite being an industry-heavy event, Expo offered several excellent academic panels, including a rapid-fire two-for-one: "Borrowing and Changing: What and How Anime Takes from the West," featuring a European analysis of the influences behind Fullmetal Alchemist and Gothic literature's influence on recent vampire anime (EDITOR'S NOTE: Sounds like "Ink: The Panel" to me).
Having hid beneath my chair during the room clear, I was able to sit in on the Anime Sols industry panel. The website features streams of older anime, mostly released in the early-to-late 1980s, most of which have never crossed the Pacific Ocean legally. Sam Pinanski, representing the nascent company, presented Anime Sols' mission: the crowd-source funding via Kickstarter to create DVD packaging for these lost classics like Yatterman, Creamy Mami and Blue Blink. The free membership allows patrons to watch videos on any device and commit whatever funding they wish.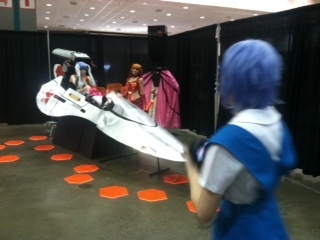 Then I discovered the continent-sized gaming room, which combined tabletop with video gaming. With over 50 TVs for free play and twenty additional TVs set aside strictly for Counterstrike and Starcraft, Expo had something for everybody. An enormous corner was sectioned off for — ready? — a cosplay repair and changing area. Directly next to that was a brilliant section set aside for cosplay shoots: a classroom, engine room, sakura garden, and a recreation of an Evangelion's cockpit stayed open to the public.
Was it worth the investment? The flyer miles cashed in, the jet lag, the lack of a bed, the pile of unhanded business cards, the interviews, handling the Pacific Ocean for the first time, the 61,000 attendees, the early morning games of "fog or smog"? Were they worth the nearly 48 hours awake? This is one of the few times as a reporter that I will admit, I regret not seeing everything. This show was clean, ran like clockwork, and staff handled the huddled, Engrish-sputtering masses like true professionals. For spearheading the summer season of the year anime took back the anime convention, I hold the deepest respect for Anime Expo.
---
Click here for more coverage of Anime Expo 2013.