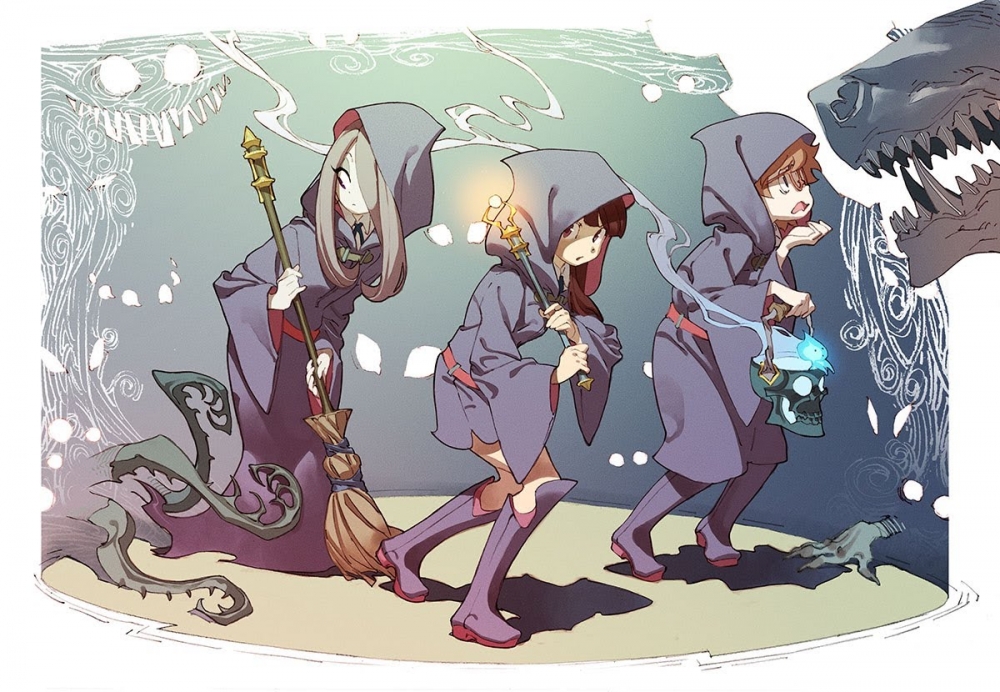 We're celebrating the end of 2013 with our personal favorite anime, manga, and video games of the year! In our Best of 2013 Staff Picks, each of our contributors selects one to three titles and writes a short post for each about why it's awesome. Note that this isn't an exhaustive list, since we've hardly watched/read/played everything.
---
When Little Witch Academia came out, we had a certain idea of what it meant to have the words "Studio Trigger" attached to an anime project. After all, this was a team of ex-Gainax animators helmed by eccentric and notoriously raunchy director Hiroyuki Imaishi — the guys who just put out Inferno Cop, a series of minimally animated YouTube shorts.
Little Witch Academia is the polar opposite of Inferno Cop. Set in a lush world populated by vibrant characters, the 26-minute short is pure animated magic. Young witch-in-training Akko (presumably named for Himitsu no Akko-chan or "Akko's Secret," one of the first magical girl anime series) admires a flashy witch celebrity, but the other girls at witch academy look down on her childish fandom. But when a routine training field trip goes south, it's up to Akko and her buddies (with a little help from her idol's magic wand) to save their school from a powerful monster.
Nearly everything that makes Little Witch Academia what it is comes courtesy of Yoh Yoshinari, a Gainax animator who followed Imaishi over to Trigger. Yoshinari pulls a Makoto Shinkai here, working simultaneously as original creator, director, character designer, animation director, and art director. His distinctive design work has the whimsy and charm of a great children's book, but the star of the show is the animation itself. A small nine-member key animation team (including Yoshinari himself) brings each character to life with fluid, expressive motion, and caps it off with spectacular effects and creature animation.
Beyond being just a great work of animation, Little Witch Academia represents the birth of a new studio, one that is now working on the popular series Kill la Kill and a Kickstarted LWA sequel. Without a doubt, 2013 was The Year of Trigger.
Little Witch Academia is currently streaming on Crunchyroll. DISCLAIMER: I am a software developer at Crunchyroll, but my opinions expressed here on Ani-Gamers do not represent and are not influenced by my employer.
---
What do you think? Does Little Witch Academia deserve its spot as one of the best anime titles of 2013? Let us know in the comments.