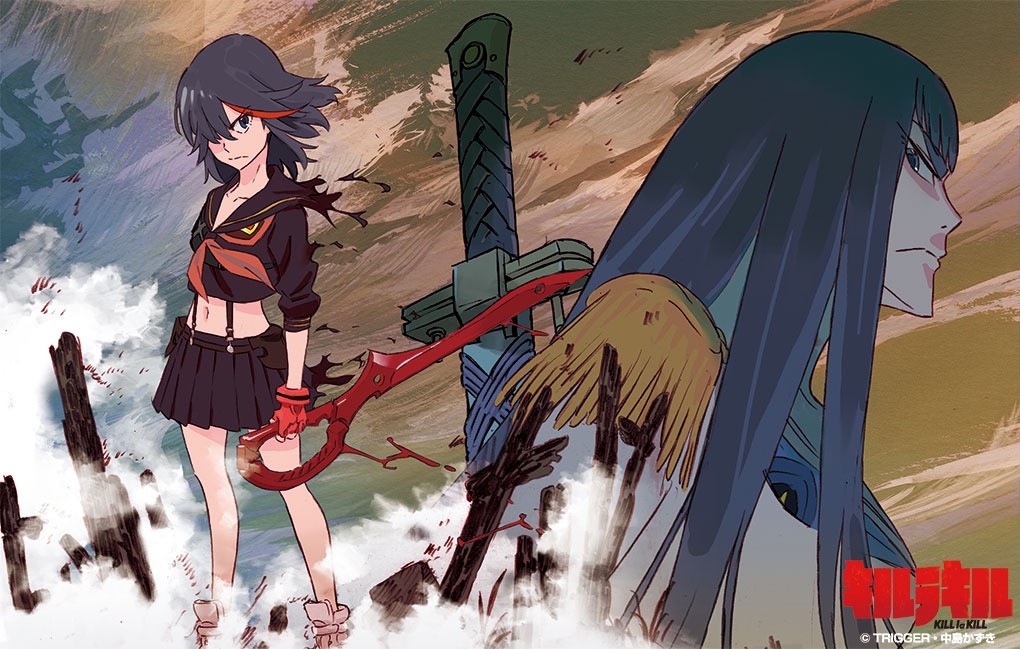 In this episode (our THIRD episode this year — crazy, huh?), Evan, Ink, and David chat about some anime and video games that they've been watching and playing, including the Fall 2013 anime season! Topics include failed superheroes, poorly timed apocalypse stories, interminable space brotherhoods, hyperactive tennis clubs, magical glasses, fascist high schools, frog rappers, and the profound pain of game development. We talk about Kill la Kill for a while, so that's kind of the main topic of this show.
Show notes and links after the break, yo.
DIRECT DOWNLOAD - RSS Feed - iTunes - Send us an email! - More episodes
(Runtime: 1 hour, 20 minutes)
[0:00:00] Opening Song: "Kill Me" by Lame Drivers
[0:00:18] Evan's working for Crunchyroll now, and Ink and David won't let him live it down.
[0:02:00] It's Spring 2013 anime season time. First up, Ink is watching Samurai Flamenco (Crunchyroll).
[0:05:00] David is watching Valvrave the Liberator Season 2 (Crunchyroll). Here's his review of Season 1.
[0:09:00] Evan is watching Coppelion (Viz Anime or Hulu).
[0:15:00] Ink is (still) watching Space Brothers (Crunchyroll).
[0:17:00] Evan and David are watching Teekyuu (Crunchyroll).
[0:23:00] David is watching Beyond the Boundary a.k.a. Kyoukai no Kanata a.k.a. the OTHER KnK (Crunchyroll).
[0:31:00] And of course, all three of 'em are watching Kill la Kill (Daisuki or Crunchyroll)! You should be watching this show.
[1:00:00] We take an excursion into video game land. Evan is playing AwesomeNauts (Steam and official site).
[1:05:00] David's not playing a game; he's making one! We talk a bit about solo indie game development. Spoiler: it's haaaaaard.
[1:13:00] Ink lets us know about a leak of an Eccentric Family license from NIS America. Turns out it later got announced for real.
[1:15:00] See ya next time (in like a million years).
[1:19:00] Ending Song: "Kill Me" by Lame Drivers
[1:19:55] Outro: Heated Spice & Wolf arguments and circular reasoning.