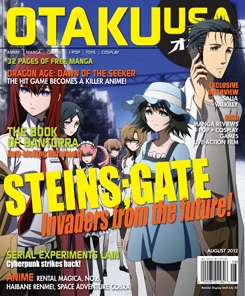 Hey, just a quick reminder that I've got two more articles
in Otaku USA Magazine this month
: a review of
Allison & Lillia
and a feature article on
Serial Experiments Lain
(one of my favorite series of all time!).
Caleb Dunaway
also has the cover feature on
Steins;Gate
,
Erin Finnegan
took a look at
The Book of Bantorra
, and
Daryl Surat
wrote up the
Dragon Age
anime. The issue is set to hit stores on May 22, so go check it out!