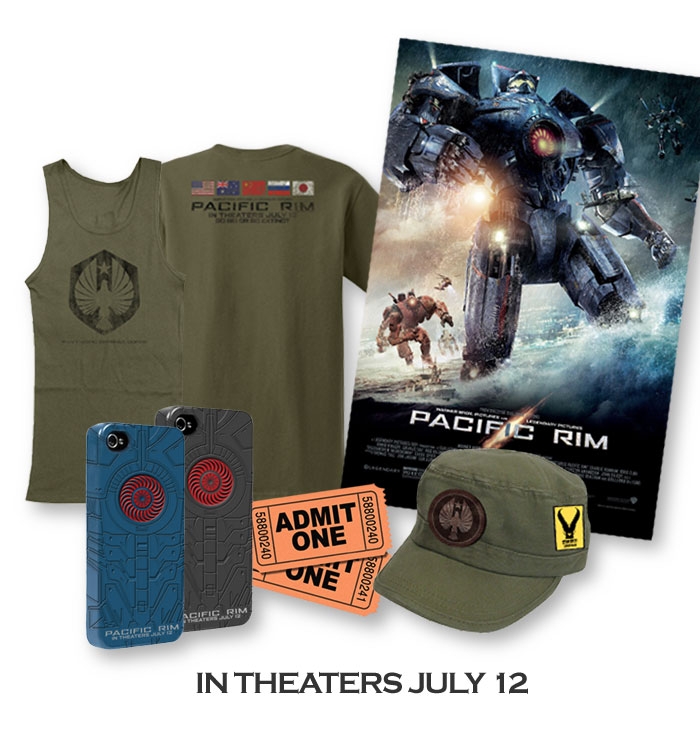 Hey folks, we've got something special for you this week. We're giving away a prize package from Pacific Rim, the new action movie from Warner Bros., Legendary Pictures, and director Guillermo Del Toro (Pan's Labyrinth, Hellboy)! Pacific Rim follows the pilots of "Jaegers" (German for "hunter"), giant robots controlled by two pilots with linked consciousnesses, as they fight back against giant monsters, called "Kaiju" after the Japanese word for the giant monster film genre. If you're an anime fan and you think any of that sounds familiar, it's because Del Toro is a big anime and Japanese monster movie fanboy, and the movie is filled with little references to everything from Getter Robo to Evangelion.
We're giving away a monster prize pack with two shirts, a hat, a poster, two iPhone cases, and of course, two tickets to see Pacific Rim in theaters! All you have to do is post in the comments below with the name of your favorite giant robot and/or giant monster (it doesn't have to be from anime, in case you're wondering), and we'll pick one random winner THIS FRIDAY, JULY 12 at 11:59 PM Eastern. Please include a contact method in your comment so we can ask you for your mailing address if you win.
David and I just saw Pacific Rim last night, and we'll have a review for you by tomorrow this Friday, July 12, the release date of the film!