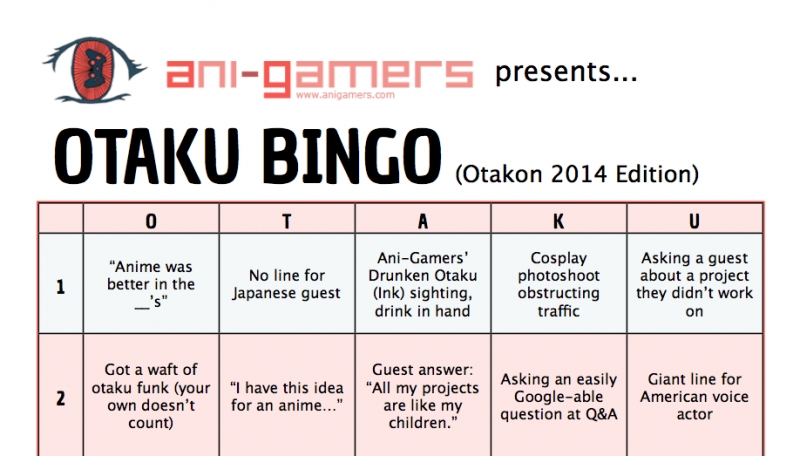 It's Otakon season again, and this year Ink, David, and I will all be down in Baltimore for the East Coast's largest anime convention, press badges in hand. We're looking forward to a lot of the events and guests at the con, including Sunao Katabuchi (director of Mai Mai Miracle), Hidenori Matsubara (character designer and animation director for Rebuild of Eva, Ah! My Goddess, and a number of other series), and Masao Maruyama (founder of studios Madhouse and MAPPA).
I will be on three panels, though unfortunately none of my own (I missed the panels deadline like an idiot this year). First off, my coworker Danika and I will helm the Crunchyroll Industry Panel on Friday at 3pm in Panel 5. We're trying to switch up the format a tiny bit to focus more on some of our personal favorite shows, so hopefully this turns out to be a fun industry panel. Then on Saturday at 10:15am in Panel 1, we're following that up with the Crunchyroll Manga panel, detailing the manga titles on our service. Finally, on Saturday at 5pm in Panel 7, I'm a guest (alongside a couple other cool anime writer folks) on Mike Toole's Write about Anime for Fun and Profit panel.
Otaku Bingo
They say absence makes the heart grow fonder, and at last year's Otakon there was a distinct absence of our annual Otaku Bingo game. I expect so much fondness this year, because it's back! We've compiled a list of some new and old squares, each representing some irritating or bemusing aspect of anime con culture. Print out your own copy and try to get Bingo while walking around the con! (If you're playing by the rules, the game doesn't begin until the con opens on Friday and it runs until it closes on Sunday.)
If you get a "BINGO," email us at otakubingo [AT] anigamers [DOT] com, tweet us @AniGamers, or leave us a post on Facebook, and we'll include your bingo card in a future post.
[Click here for a PDF of the Bingo card for you to print at home]
*We'll probably have some extra Bingo cards on-hand at the con too, but don't count on it!
Schedule
In case you're looking to follow us around, or at least get an idea of what's good at the con, Ink's full schedule — subject, as always, to on-the-fly changes — is available below. See you there!
Thursday
4:30–5:30pm: Sumo Demonstration Matsuri
7:15–8:00pm: Peelander Z Concert Matsuri
Friday
10:00–11:00am: Ghibli in Love (Panel 1) OR Intro to Josei (Panel 3)
11:15am–12:15pm: Katabuchi Q&A (Panel 6)
12:30–1:30pm: Light Novel Translation (Panel 1)
1:30–3:30pm: Mai Mai Miracle Video 1
4:15–5:15pm: Journey to the Stars (Panel 3)
4:15–5:15pm: Yukio Mishima: Samurai Poet (Panel 4)
5:30–6:30pm: Kurosawa: Romancing the Samurai (Panel 6)
6:45–7:45pm: Japanese Drinking Culture: Proper Etiquette and Presentation (Panel 5)
9:15–10:15pm: Totally Subversive Toons (Panel 1)
10:00–11:00pm: Japanese Whisky 101 (Panel 6)
Saturday
9:00–10:00am: Amazingly Obscure Anime (Panel 1)
10:15–11:15am: Satanicartoons: The Devil (Panel 5)
11:30am–12:30pm: Drawing with Kozaki (Panel 2)
1:00–2:00pm: A Japanese Fairytale: The Dragon and the Shisa (Workshop 1)
2:00–3:00pm: Maruyama/MAPPA Q&A (Panel 3)
3:15–4:15pm: Matsubara Q&A (Panel 3) OR Kodansha Comics (Panel 4)
4:30–5:30pm: Katabuchi Q&A (Panel 1)
5:45–6:45pm: Fandoms/Facepalms (Panel 2)
7:00–8:00pm: Ai Yazawa: The Retrospective (Panel 5)
9:15–10:15pm: Sake 101 (Panel 6)
10:30–11:30pm: Measure of Man: Fate/Stay (Panel 4)
11:45pm–12:45am: Ninjas/Kawajiri (Panel 4)
Sunday
9:00–10:00am: Visual Novel/Psychology (Panel 3)
11:30am–12:30pm: Sumo Q&A (Panel 3)
10:15–11:15am: When Moe Goes Bad (Panel 4)
12:45–1:45pm: Maruyama & Matsubara (Panel 4)