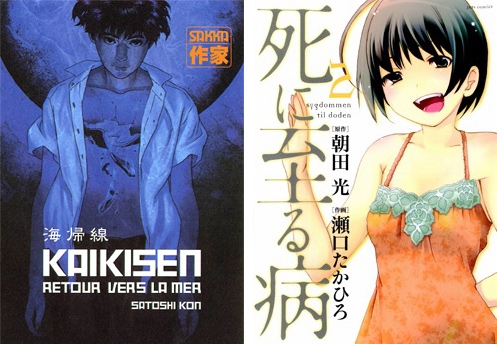 In a classic "get Evan to buy all their books" move, Vertical Inc. announced today at Katsucon 2013 their acquisition of Satoshi Kon's one-volume fantasy manga Tropic of the Sea (Kaikisen). The series revolves around a seaside town and its relationship with the legendary "sea people" who live in the water. I've done some research on this manga for my Satoshi Kon panel, but never read it, and I'm positively ecstatic to finally get the series in English. Satoshi Kon (Millennium Actress, Paranoia Agent, Paprika), if you're not already aware, is my favorite director (anime or otherwise), and his career was tragically cut short in 2010 when he suddenly passed away of pancreatic cancer. Tropic of the Sea is scheduled for a September 2013 release.
In less Evan-pandering news, the publisher also announced Sickness Unto Death (Shi ni Itaru Yamai), a seinen manga from Takahiro Seguchi and Hikari Asada. I'm a lot less familiar with this series, but the Anime News Network describes it as a "literary love story" about a woman suffering from "despair" and a man who tries to help her. That's not a lot to go on, but Google Images seems to imply that this one's gonna be a bit, uh, racy (kind of NSFW link). Vertical plans to start releasing the two volumes of Sickness Unto Death in October 2013.
What do you think of these licenses? Thinking of picking up either or both?
---
SOURCE: Anime News Network