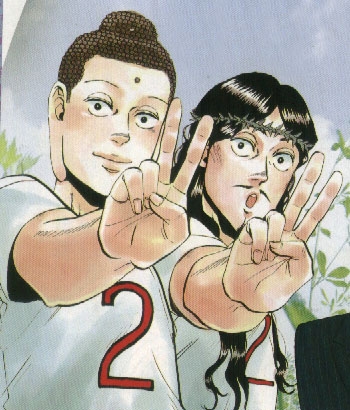 The Anime News Network reports that today, Kodansha's seinen manga magazine Morning announced that Hikaru Nakamura's manga Saint Onii-san (Saint Young Men) will be getting the animated treatment in the form of an anime film. The comedy manga from the Arakawa Under the Bridge author imagines holy figures Jesus and Buddha living together in a Japanese apartment.
Furthermore, the eighth volume of the Saint Young Men manga will come bundled with a standalone anime DVD when it comes out on December 3, 2012 (this will be a separate, original animation).
The Anime News Network also reports that the Morning website has listed the staff of the anime film:
Director: Noriko Takao (episode director on Clannad, K-ON!, Lucky Star)

Screenplay: Rika Nezu (live-action Kimi ni Todoke, live-action Absolute Boyfriend)

Character

Designer

: Naoyuki Asano (chief

animation

director

on Doraemon films)

Animation

Production

: A-1 Pictures

Music: Keiichi Suzuki (Tokyo Godfathers, No. 6, live-action Uzumaki, Outrage Beyond), Ryomei Shirai (20th Century Boys)

Production: Aniplex, Kodansha, TOHO

Distribution: TOHO Films
American manga fans (especially in the manga blogging community) have been clamoring for a U.S. license for Saint Young Men for years, but Nakamura has blocked U.S. publishers from licensing the property, reportedly due to concerns about offending American Christians. Knowing that, it's highly unlikely that this anime adaptation will fare any better when it comes to North American licensing.