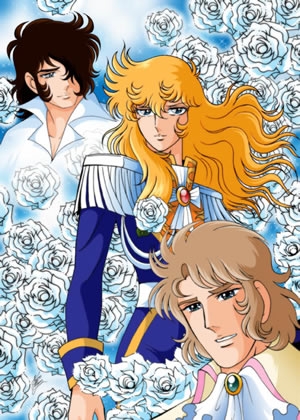 Today anime distributor Right Stuf (which runs the ubiquitous online anime store of the same name) announced something that many thought would never happen: the aquisition of TMS Entertainment's 1979 The Rose of Versailles anime series for North American distribution. The series, based on a classic shojo manga by Riyoko Ikeda (Dear Brother), will come to American and Canadian fans via two limited-edition DVD box sets next year. In December, crowdsourced subtitle streaming site Viki will stream the entire 40-episode series for free, though the translation will be handled by the Nozomi Entertainment arm of Right Stuf, not by volunteer fans (as is usual for Viki).
To promote the release, Right Stuf will be holding an interview with Riyoko Ikeda, featuring questions from fans, and the distributor will premiere the first subtitled episode at New York Comic Con on October 13 in an event hosted by the Anime News Network and Tufts University professor Susan Napier.
The Rose of Versailles follows the adventures of a woman raised as a man (and trained as a knight) in pre-Revolutionary France as she navigates the political intrigue in the court of Marie Antoinette. Ikeda's pioneering manga series was hugely popular among girls during its 1970s run, and it (along with manga from Ikeda's contemporaries in the "Showa 24 Group") is responsible for many of the genre conventions that now define shojo manga. The first half of the anime series is directed by Tadao Nagahama (Combattler V, Star of the Giants), while the late Osamu Dezaki — the creator behind fan-favorite adaptations of Aim for the Ace!, Black Jack, Golgo 13, Space Adventure Cobra, and Tomorrow's Joe — directed the second half.
For fans looking to bone up on their Riyoko Ikeda, the anime version of her manga Dear Brother (a.k.a. Oniisama e...) is currently streaming on Viki for North American viewers.
Younger or newer fans might not fully recognize the importance of this licensing news, but The Rose of Versailles had been written off as an "unlicensable" property due to rights disputes and other problems on the Japanese side of things. Having never seen the landmark series despite its near-universal praise, I know I'm extremely excited to finally check it out, especially since Viki will be providing an early stream of the whole thing. How about you guys? Anybody planning to pick up these DVDs next year? (Or, more aptly, considering the Twitter response to this news, anybody not planning to pick them up?)