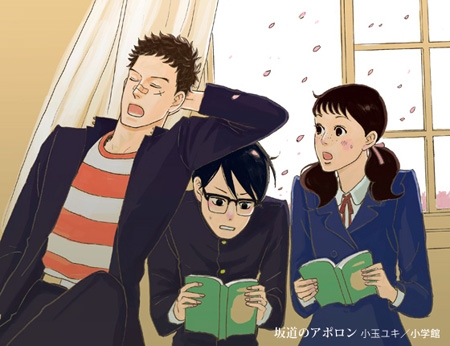 At their Anime Boston 2012 industry panel, Sentai Filmworks (the licensing arm of the post-ADV network of companies that includes Section23 Films) announced a number of new releases on DVD and Blu-ray.
The company began by announcing that their releases for The World God Only Knows season 2, Koihime, No. 6, and This Boy Can Fight Aliens will all hit stores in August 2012. All releases will be on DVD, and No. 6 and This Boy Can Fight Aliens will also be on Blu-ray.
They also reassured fans that the dub for the Persona 4 anime would maintain the English actors from the game.
As for simulcasting, Sentai also picked up Shinichiro Watanabe's Kids on the Slope (Sakamichi no Apollon) and the romantic comedy Mysterious Girlfriend X (Nazo no Kanojo). Kids on the Slope's first episode premieres on April 12. Mysterious Girlfriend X premieres on April 8.
In the question and answer session, they also mentioned that High School of the Dead is their highest selling title, since "nothing beats boobs and zombies."
---
Click here for more coverage of Anime Boston 2012.