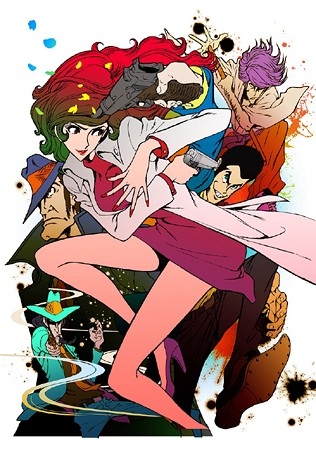 At their industry panel today at Anime Boston 2012, FUNimation Entertainment announced that they have acquired the streaming rights for Lupin III: The Woman Called Fujiko Mine, Jormungand, and Is This a Zombie? Of the Dead (the second season of Is This a Zombie?). The near-ubiquitous anime distributor also acquired the home video rights for Future Diary.
FUNimation's Lupin III license comes on the heels of widespread fan disappointment over its unlicensed status. Lupin III is a franchise with a lot of name recognition, but fans worried that the new series' racy content could scare away North American distributors. I'm really happy to see the series, which features character designs by Redline director Takeshi Koike, get official English distribution, in part because our site policies don't let us write about it until it gets licensed. And boy oh boy, are we excited to write about it!
Thanks to Scott Green of AICN Anime for his timely tweets about the announcements, as both David and I were not at the FUNimation panel when the announcements were made.
---
Click here for more coverage of Anime Boston 2012.