Paranoid Androids and Electric Sheep

By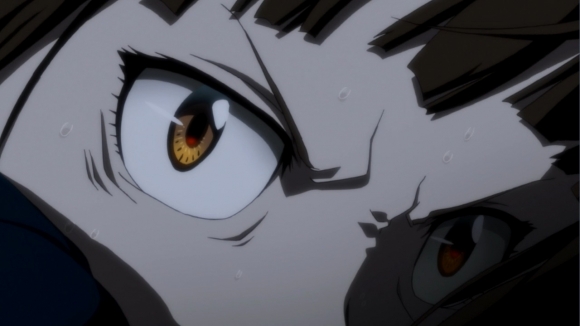 Four months ago, I speculated that PSYCHO-PASS would, in spite of the hype, not be the succesor to Ghost in the Shell. No surprises there. As it turns out, the New Ghost in the Shell is, in fact, a new Ghost in the Shell. To my relief, PSYCHO-PASS hasn't devolved into another Guilty Crown-style disaster for Production I.G.. While the noitaminA block and viewers have forgotten all about that show a year later, I'd love to say PSYCHO-PASS has found its course as an original television anime and redeemed the famed animation studio, but ehh . . . we're not there yet.
Series composer and writer Gen Urobuchi, in an exchange between his director and himself, declared Episode 16 his "masterpiece," so it's perfectly fine if I ignore all of what happened previously (an extended allusion to The Most Dangerous Game and a backstory episode that didn't go anywhere afterwards). The pacing has picked up a significant bit now that the writers have arrived at the story they actually want to tell, with the message they've been waiting to deliver just around the corner. The only problem I see is that PSYCHO-PASS has failed to do all of the reading beforehand to sell the message properly. The show tries to give off the impression of being very literate, but it comes off as shallow; the dialog tends to go, "Book? Yeah, I read Book, and isn't it funny how our society is a lot like what Author wrote?" Framing a character reading Heart of Darkness without saying anything about it isn't literate at all. It's nothing more than bullshitting and hoping your 10th grade English professor doesn't find out you didn't read the book. To reiterate what I mentioned in my first PSYCHO-PASS impression post, if you have read any science fiction in the last 40 years, you'll see immediately that most of the ideas found in this show have been discussed before, at length, and far more deeply than what you'll find here.
Books are for losers though (as is talking), so it's much appreciated that PSYCHO-PASS has moved away from paraphrasing moldy ideas of the nature of man and his relation with technology and into the blood and guts of conflict. The world constructed for PSYCHO-PASS finally comes alive, reacting to all the implications the narrative has been casting around like breadcrumbs at the park. While it's all good and exciting to see it all unfold, I would've held off on uttering the word "masterpiece" if this is the direction the end of Episode 16 hints the show is going to take. The big twist at the end is actually confoundingly stupid on a repeat viewing, and the allegedly shocking true nature of the Sibyl system has been left on a cliffhanger, so there's still plenty of show left to get even stupider.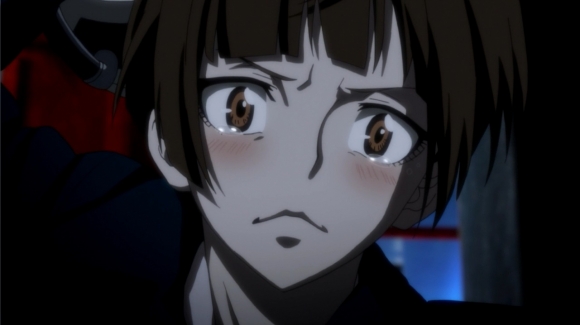 Despite everything for which I can knock PSYCHO-PASS, I can't deny the one thing it gets absolutely right: Akane. Her growth from dorky newbie to dorky, yet capable, detective is the best reason to watch PSYCHO-PASS. For all the doom and gloom of the cast and setting of Urobuchi's not-quite-a-dystopia, Akane's bumbling yet well-meaning presence balances out all of the scowls, murders, and technobabble. She's a pillar of light that keeps the show from sinking under it's own weight. Seriously, Akane is the strongest female character and disgustingly moé in every scene to boot. I will probably feel terrible when the Urobutcher has something really awful happen to Akane . . . again.
As hard as I'm being on PSYCHO-PASS, I don't dislike it. On the contrary, I like it a fair bit and wish for it to become as great as I think it can be. It powers through its dumb moments with aplomb, and while none of its ideas are original, it's still miles above whatever is getting presented in anime today. The creators are convinced they're working on something great, and I'm hoping they can give PSYCHO-PASS that extra push to convince me.